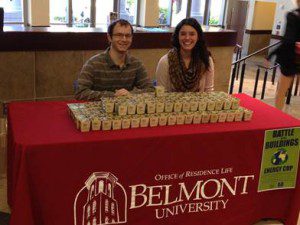 This semester, Belmont's Resident Life sponsored Battle of the Buildings, an energy conservation competition for the University's residence halls that encouraged students to team with fellow residents to converse as much energy as they could. The competition, scheduled from Oct. 15 – Nov. 15, included a kickoff bulletin board competition and potted marigold plants for participants.
The Hall that conserved the most compared to energy usage the previous year won an awards celebration in early December. Maddox Hall, this year's Battle of the Buildings and Residence Life Energy Cup Trophy winner, used approximately 64 percent of the energy that was consumed during the same period of time last year.
For more information on Belmont's sustainability efforts, click here.