On Saturday, Nov. 4 School of Music Professor Dr. Jeffery Ames debuted his masterwork composition, Requiem for Colour, to an audience of more than 1,200 open hearts and minds at Belmont's Fisher Center for the Performing Arts.
Culminated from an idea conceived more than a decade ago, Ames' labor of love pays musical homage to the sufferers and saviors, the casualties and champions of Black American peoples in a requiem or mass for the dead.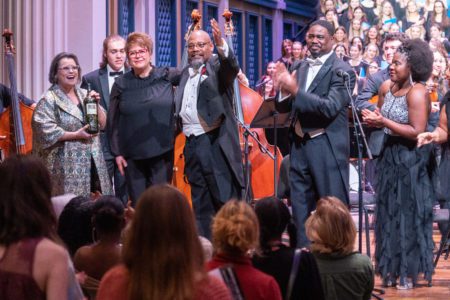 Many Belmont students, faculty and staff were in attendance, some of whom invited family and community members to the free performance. Assistant Professor in the Inman College of Health Sciences and Nursing Olivia Bahemuka invited friends and family from church as well as friends from a book club.
"The performance spoke to me on various levels: as a lover of theater, I was thoroughly blown away by the talent, the voices, orchestra – my friends were truly surprised it was a 'free' event because of the caliber of performance," Bahemuka said. "As a person of color – I so loved the story being told by the music; music allowing me to experience or imagine the emotions and feelings of the people who lived the story."
Ames led more than 450 students of Belmont's Oratorio and orchestra and invited an impressive ensemble of guests to participate in the evening's dynamic display of storytelling. Recitalist and opera performer NaGuanda Nobles left the audience stunned by the clarity and emotion carried on the soprano's exquisite vocals.
"We were a huge force of musicians who told the story in a unique manner," Ames said. "I truly believed God and African ancestors were pleased."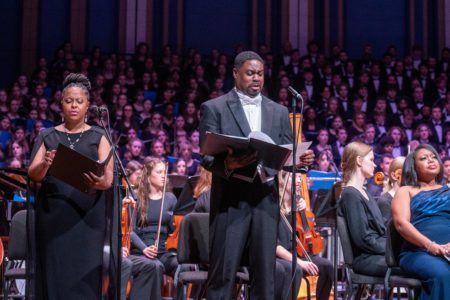 The bold, dynamic tones executed by tenor Rodrick Dixon conveyed great pain as well as great triumph. Audience members rejoiced and clapped along during the closing movement "Celebration Omega: Heaven- The Eternal Motherland" led by Dixon and Nobles.
Seasoned performer and Director of Student Transitions and Community Engagement at Vanderbilt University Roshaunda Rosa-Orta transported attendees into the narrative through her poignant oration of excerpts from slave biographies, select poems, speeches and scriptures.
"In a time when history is being erased and rewritten, it is essential to share accurate information about the past," Rosa-Orta said. "One of the best ways to share that information is through art. Art unites human beings and allows us to understand our experiences in beautiful ways. It is an honor to serve as the griot of this piece, using spoken words to elevate the stunning music."
Requiem for Colour breathed new and refreshing life into the storied history of the Black American experience by incorporating Black idiomatic genres within the Western European style of composition. "Libera me" featured a lyrical rap performed by Ames' daughter, Lydia, who is a senior at Nolensville High School and plans to study Aerospace Engineering Fall 2023.
The premiere musical event was an unforgettable experience for all who participated, from listening in theater seats to singing to performing under the theater lights. What was meant to be a one night only performance is starting to grow legs.
"God has planted another seed," Ames said. "Conversations are occurring for additional performances, nationally and internationally."