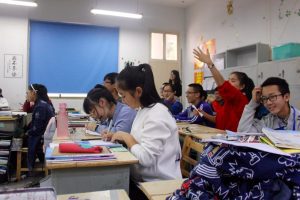 Alumna Samantha Hubner, a May 2016 Belmont graduate, recently announced an international book drive for middle and high school students living in the small city of Quzhou, Zhejiang, China. Hubner is currently working in Quzhou as an educational ambassador and English teacher through the Ameson Education and Cultural Exchange Foundation, a nonprofit dedicated to the promotion of programs that facilitate cultural and educational exchanges worldwide.
For the rest of the month, Hubner will be accepting mail donations of books at the middle or high school reading level in any genre to help aid her students in practicing their English language skills. In exchange for donations, one of Hubner's students will send a thank you postcard to the donor sharing why learning English is important to him or her.
Hubner said the idea for the book drive recently came to her when she was talking to her first-year high school students about English books. She realized that even though most of her students had been learning English since primary school, almost all of their practice reading had come from textbooks. Paired with her desire to get fellow Americans involved in her work overseas, the international book drive was born.
"The idea for the book drive came to me as I was brainstorming ways to better engage people back in the U.S. about what I was doing here in China," Hubner said. "I keep a blog, which allows me to share the occasional anecdote and misadventure, but I wanted to come up with something that was more engaging than a weekly recap."
Hubner also recalled her own experiences with learning foreign languages and what materials were most beneficial to her understanding of them. "When I was a student at Belmont and studying French and Chinese, reading outside material was one of the best ways I learned. And so I began to wonder, as we approach the Christmas season, why not ask people back in the States to consider helping these students build their school library with some English books? And what better way to connect two vastly different cultures than through the love of reading?"
Book donations can be sent to the following address:
Samantha Hubner
Quzhou No. 1 Middle School
399 Jinhua Lu
Quzhou, Zhejiang, China, 324000
(136-0050-8178)