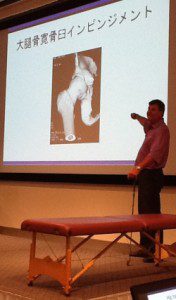 Dr. Mike Voight, professor of physical therapy, was recently a keynote presenter at the World Golf Fitness Summit in Carlsbad, California and at a meeting of the Japanese Athletic Trainer and Physiotherapy Association in Tokyo, Japan.
The World Golf Fitness Summit brings together over 30 of the world's thought leaders in athletic performance to discuss the latest research and practical applications.  Dr. Voight is noted as one of the leading authorities in the rehabilitation of orthopedic and sports injuries.  At the Summit, he joined Dr. Tom Byrd, an orthopedic surgeon specializing in sports medicine and arthroscopic surgery, to present a session about hip injuries in the golfer.
Earlier in the month, Dr. Voight co-presented a session to the Japanese medical community on the evaluation of movement disorders and the impact that poor movement has on the hip.  Seventy-five Japanese physicians and physical therapist were in attendance.