Belmont public relations students issue proclamation to Tennessee Governor Bill Haslam to support student veterans as part of their 'Success, Value, Advocacy' Bateman Campaign
A ceremony was held Monday at the Tennessee State Capitol in honor of the official proclamation signed by Governor Bill Haslam declaring Feb. 21-27 as Tennessee's Student Veterans Week. The ceremony began with two Belmont student veterans speaking about their transition from service member to student as well as the way Student Veterans of America (SVA) has aided in the transition and the importance of being supported by their university.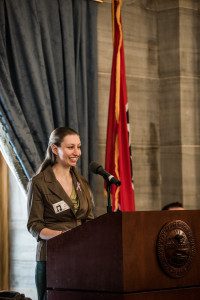 The proclamation is a product of the public relations campaign "Success, Value, Advocacy" by Red, White and Bruin, Belmont's 2016 Bateman Team. The Bateman Case Study Competition is the Public Relations Student Society of America's annual competition that challenges students across the nation to implement comprehensive public relations campaigns. This year's client is SVA, a nonprofit coalition of student veterans groups on college campuses that provide peer-to-peer networks for student veterans. Red, White and Bruin is working with student veterans from Belmont, Lipscomb and Tennessee State Universities to increase awareness and support for SVA in the greater Nashville area.
Yvette Martinez, assistant commissioner for Tennessee's Department of Veterans Services, read the official proclamation, and Belmont student Savannah Beals sang the National Anthem. Martinez spoke on the initiatives put out by her own office, including partnering with schools in Nashville for a 200 percent increase in veteran higher education enrollment, totaling 13,400 students in 2015. In 2013, $236 million was given in federal education benefits, and that number grew by more than $30 million in a year.
"This is all great work, but more needs to be done," Martinez said. "These veterans' stories are unique, and they are powerful." She also highlighted the impressive work of the five Belmont students on the Bateman team. "This is the way traditions start. We plan to make this an annual event."
Belmont student veteran Erin Twohey spoke on the service member to student transition and the support she has felt from the community. She said she discovered Belmont when she began searching for business accredited Yellow Ribbon schools with a reputation for being military friendly.
"Belmont had shown such instantaneous excitement and support upon finding out I was military that in that moment, I knew where I'd be going–not because I thought I made my choice, but because I felt that Belmont chose me," Twohey said. "Upon my transition to becoming a fulltime student, I was afraid I would feel like an outcast and have to fight for academic accommodations if I was ever obligated to return home for duty. Instead, I not only found comradery among other student veterans and adult students, but also an outstanding support system of faculty and staff. At that point, one thing above all else was clear: I belong here."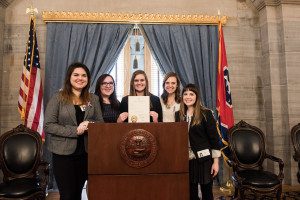 Senior public relations major and Bateman team member Haley Hall welcomed the attendees to the event by expressing the team's personal investments in lives of student veterans.
"Through these past few months, this campaign has been a life changing experience for me and my team. What started out as just a project has turned into something that we all believe in so strongly and will forever be advocates for," she said. "The student veterans that we have met during this time are strong, brave and have taught and inspired us every step of the way. We are so pleased that Governor Haslam approved our proclamation that recognizes Student Veterans Week in the State of Tennessee."
President of Bruin Vets, Belmont's SVA chapter, Jonathan League also spoke on the opportunities he has been given. "SVA has provided me the opportunity to have a more valuable college experience and gain the confidence to pursue something greater than myself," said League. "SVA supports me and my fellow veterans during our transitions from yesterday's warriors to today's scholars and to tomorrow's leaders. I am appreciative for this week of honor because it recognizes the value our student veterans bring to higher education within the state of Tennessee."
Belmont's 2016 Bateman Team is comprised of sophomore Lindsey Barchent, senior Julia Couch, senior Haley Hall, senior Haley Hicks and senior Jessica Martin. For more information on SVA, click here.