On February 27, Belmont University President Dr. Bob Fisher led a convocation event, "Leadership Lately: We Change with Dr. Bob Fisher," as a part of Belmont's Leadership Lately sessions. This new series, sponsored by BOLD – Belmont's Office of Leadership Development – teaches students leadership competencies and discusses topics on the latest tools for leadership.
Fisher began by challenging the 175 students in attendance to think about change and how much they enjoy or dislike the idea. He asked them to clasp their hands together and see which finger was on top, then asked them to cross their arms and see which was naturally on top of the other. He said most of us do both of these actions the same way every day.
He then challenged students to do both actions the opposite way. He said change is uncomfortable, unnatural and something we all must work toward. He then said Belmont is all about change, noting his natural tendency is to resist it.
"To accomplish anything significant in today's world, you need other people," he said. "It takes teamwork, collaboration and respect for one another with a common sense of purpose."
He asked students to reflect on their teamwork and leadership experiences, then challenged them to think about those situations strategically.
"Sharing basic principles connected to stories and applications is a powerful thing," he said, "especially when you talk about leadership."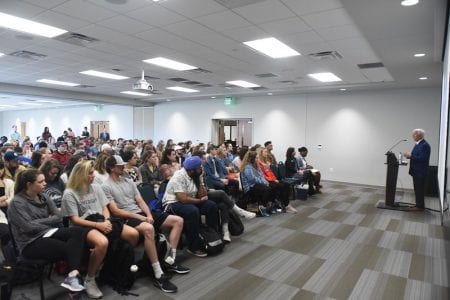 Discussing the seven characteristics of highly-effective teams, Fisher featured some of his favorite comic strips – ones that related to each characteristic. The seven characteristics included a common mission, trusting support, clear roles, win-win cooperation, individual competence, empowering communication and a winning attitude.
He concluded by emphasizing the importance of being confident and having a winning attitude. He said there is a fine line between a winning attitude and arrogance, but to look for and expect the best in every situation.
"Our dream at Belmont is for every single one of you to be leaders," he said. "We know you will be, but we want to make sure we equip you and make you think about it before it happens. I hope the very best for each of you."
Fisher was introduced by Dr. Adrianne Archie, assistant dean and director of leadership development.