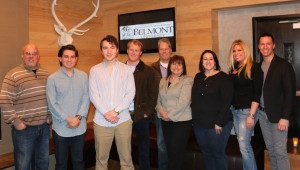 The Pipeline Project 4.0, a music industry think-tank created by the Belmont University Mike Curb College of Entertainment and Music Business, was recently cited by the U.S. Copyright Office in a final report on copyright and music licensing policy, published Feb. 5.
The Pipeline team consisted of nine undergraduate Belmont students selected to consult with industry investors. Students Anthony Manker, Devin Dawson and Alex Marsh conducted a research study into copyright and music licensing reform. The study was sponsored by the Association of Independent Music Publishers and Fifth Third Music with Marc Driskill, executive director of AIMP Nashville, serving as industry advisor.
The Pipeline team interviewed executives from across the industry such as Vincent Candilora from ASCAP, Jody Williams from BMI, Troy Tomlinson from Sony/ATV, Steve Marks from the RIAA, Jay Rosenthal from the NMPA, Scott Sellwood from Google/YouTube, Colin Rushing from SoundExchange and others. Stakeholder groups included record labels, publishers, artists, songwriters, attorneys, economists, performing rights organizations, rights administrators, managers, broadcasters and digital music services.
"Copyright and the Music Marketplace" and its executive summary are the culmination of the Copyright Office's study on copyright and music licensing policy conducted in 2014. The Pipeline team submitted comments to the U.S. Copyright Office on Sept. 12, 2014. The Office cited the Pipeline Project's comments 12 times, including an acknowledgement to the students' work on data standards.
"Of particular assistance was the student submission from the Pipeline Project… which provided an insightful summary and analysis of relevant data standards…."
"As a songwriter, it is important to understand every part of my business. I was excited to work with the AIMP to make positive changes for songwriters trying to make a career out of creating intellectual property," said Dawson, a songwriter and senior at Belmont. "I'm thankful for this opportunity and am confident the efforts to create a modernized copyright law will lead to a better music industry."
"Copyright law lays the foundation for some our country's largest industries. For being such an important part of our law, it deserves more attention," said Marsh, a junior at Belmont planning to pursue a career in law and economics. "I am glad to see that our work paid off and was of use to the Copyright Office."
"The Pipeline Project was some of the most rewarding work I've been a part of. I couldn't be more proud of my team's determination to learn and develop ideas for a cause that is so important to us and everyone involved," said Manker, a senior at Belmont. "A big thanks is due to the AIMP, Fifth Third Music and our Pipeline Project advisors for challenging us to tackle all of the issues."
"We at the AIMP were certain that introducing the voices of the next generation of creators and music business executives would be of benefit to the discussion on music licensing, and these guys knocked it out of the park," said Driskill. "It was not only a pleasure to work with Devin, Anthony and Alex, it was enlightening and encouraging. Thanks to all involved at Belmont's Curb College for providing the platform for them to engage with us in this critical discussion."
The Pipeline team has presented their findings in a variety of settings, including to Rep. Marsha Blackburn, Rep. Doug Collins, the AIMP Nashville Chapter Board, Leadership Music, industry stakeholders and Belmont students, faculty and staff.