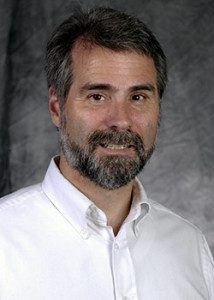 Dr. Mike Pinter, Teaching Center director and professor of mathematics, presented a poster at the annual Southern Regional Faculty Instructional Development Consortium (SRFIDC) Conference, March 2-4. The conference, held at Dalton State College in Dalton, Ga. had Embracing Ownership: Encouraging and Empowering Self-Directed Faculty as its theme. Pinter's poster presentation, entitled "Using Faculty Reading Groups to Build Community and Support Self-Directed Faculty," described a variety of faculty reading groups used as a faculty development activity at Belmont.
In addition to detailing some planning logistics for the groups, the presentation included reading group objectives, namely: build community among faculty across all areas of campus; provide an opportunity for faculty and selected staff (for example, Student Affairs) to interact; serve as a lead in or follow up associated with a Teaching Center workshop or retreat, or some other campus event; provide an opportunity for faculty to explore current ideas from research on teaching and learning; and provide an opportunity for reflection on spiritual or personal growth and development. Some reading group outcomes were shared in the poster, including data about number of participants over the last ten years.  

Book titles from recent reading groups range widely, from a focus on teaching and learning (How Learning Works:  Seven Research-Based Principles for Smart Teaching by Ambrose et al, and What the Best College Teachers Do by Ken Bain), a common book for incoming freshmen (Don't Sleep, There Are Snakes: Life and Language in the Amazonian Jungle by Daniel Everett), elements of spirituality (Falling Upward: A Spirituality for the Two Halves of Life by Richard Rohr and Spiritual Mentoring: A Guide for Seeking and Giving Direction by Anderson and Reese), to well-known fiction and nonfiction (State of Wonder by Ann Patchett and Quiet: The Power of Introverts in a World That Can't Stop Talking by Susan Cain).
Reading groups for Summer 2014 will be forming during April.  Titles for reading group books include What the Best College Students Do by Ken Bain, The Invisible Gorilla: How Our Intuitions Deceive Us by Christopher Chabris and Daniel Simons, Cooked: A Natural History of Transformation by Michael Pollan,  Alone Together: Why We Expect More from Technology and Less from Each Other  by Sherry Turkle, and The Fault in Our Stars by John Green. For more information, contact Nanci Alsup in the Teaching Center at (615) 460-5423.