James Pierce, assistant professor of art, found himself in need of a way to monitor his glucose levels throughout his busy teaching schedule. As a professional living with Type 1 Diabetes, Pierce is often in and out of classrooms across Belmont's campus and was looking for a way to unobtrusively monitor his changing levels. Finding no suitable option, Pierce used his design, user experience and development background to create GluKey, an app that displays real-time glucose readings from continuous glucose monitors on a user's toolbar.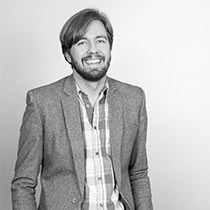 Using a simple trend arrow, levels are always visible in the status bar. A detailed graph with up to 24 hours of data is available and users can set notifications for alerts when levels reach unwanted highs or lows.
Because the product serves a specific need for Pierce, he said he wasn't sure whether others would be interested in using it–but he added it to the App Store just in case. "Since launching the app, I've been amazed to see downloads of Glukey from the around the world," he said. "The emails and the feedback that I have received has made it worth it by just knowing that I've been able to help others—even in a small way."
Glukey is intentionally designed to be simple, with limited 'bells and whistles,' so its monitor function can do exactly what it was created to do. "The purpose of the app is to simply, and unobtrusively, put real-time glucose information directly in the computer toolbar," Pierce said. "I hope that others continue to find Glukey useful and that I can continue to improve it to meet the needs of others."
Diagnosed as a young adult, Pierce said he understands the cost associated with effectively managing diabetes—and it was those rising costs that pushed him towards creating a solution that would be free for all users. "It honestly never crossed my mind to make it anything other than free," he said. "I wanted to be able to help others by sharing something that I would have built for myself. Additionally, I made the app open-source in the hopes that other developers may contribute to Glukey, continually making it better over time. I believe in giving back where I can to both the diabetic and open-source communities."
Currently, the free and open sourced app is only available for Mac and desktop usage.