First year physical therapy students Beau Kovach, Natalie Storey, Ashley Carney and Christine Fisher recently volunteered to participate in therapy animal training classes for Therapy ARC (Animals Reaching Clients), a local group.
A registered pet therapy team consists of a volunteer owner/handler and their trained pet who visit various members of the community to provide affection and comfort to those in need. Pet therapy teams work with a wide variety of people in many settings including hospitals, outpatient facilities, nursing homes, schools, colleges, libraries and courtrooms, among other places. These teams require a significant amount of training and simulations of various experiences.
Once an animal and handler complete the necessary training, they must pass a detailed evaluation performed by a licensed evaluator from a registered pet therapy organization.  During the evaluation, the animal and handler must perform basic obedience skills and demonstrate calm behavior around new people, other animals and during several simulated tasks including maneuvering through crowds of people, being petted or embraced by several people at once, approaching someone using a walker or wheelchair and simply being in unpredictable environments that may be noisy, include people of various ages and people with different physical and/or mental disabilities.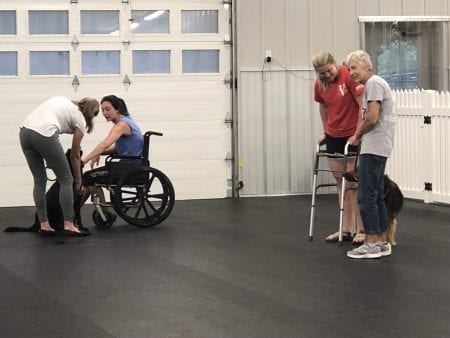 As physical therapy students at Belmont, Kovach, Storey, Carney and Fisher have been exposed to the many benefits of animal-assisted activities and have had first-hand experience learning how therapy animals can reduce stress and anxiety.  Storey and Carney are currently involved in research at Belmont, under the direction of Dr. Christi Williams, exploring the effect of animal-assisted interventions on the reduction of anxiety in students prior to taking a laboratory practical exam.
Given their understanding of patient care and healthcare settings, these first-year PT students were a natural fit to assist in the Therapy ARC training sessions and quickly jumped at the opportunity to assist when the need arose for volunteers. When asked about the experience, Kovach said "it was a dawg-gone good time!"
For more information on how to train a therapy animal, volunteer or donate to the cause, click here, here, here or here.