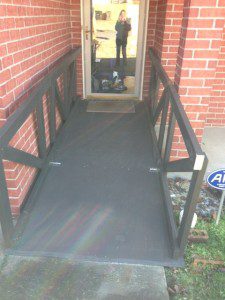 Second-year physical therapy student Ashley Barrett recently completed her clinical affiliations by working with a home health therapist and Belmont Doctor of Physical Therapy alumnus Maritza Garcia Williams ('02).  Together they worked with a man who has multiple sclerosis and is confined to a wheelchair. In addition to exercises and mobility training, they worked to determine an emergency exit plan from his home, as he was alone most of the day and unable to get his wheelchair out of the house.
Since Barrett's grandfather worked in construction, she recruited his help to build a ramp and ensured that the cost of the supplies was covered.  After receiving permission from the patient and measurements needed for the ramps, Barrett and her grandparents went to the patient's home and installed the ramp.
When Williams arrived at the patient's home for the next therapy session, the patient met her outside.
"This is the first time in five years that he has been able to exit his home, easily and quickly, without assistance.  For him, this is major," Williams said.