In April, pharmacy students in the Ambulatory Care Pharmacy course led educational classes at Room In The Inn, a community of participants, guests, volunteers and staff who work together to offer hope to Nashville's homeless population. The organization serves more than 4,000 homeless individuals each year.
Assistant Professor in the College of Pharmacy Dr. Ashton Beggs teaches the course to second and third year students each spring, focusing on disease states seen in primary care settings and best practices for patient education.
Room In The Inn offers over 3,000 classes annually, covering a wide range of subjects including health, spirituality, GED preparation and art. Participants earn points for taking classes and can use them to purchase socks, gloves, bus passes or other useful items.
Dr. Beggs's students taught five classes at Room In The Inn in April. These classes focused on primary care topics including diabetes, hypertension, hyperlipidemia, smoking cessation and asthma.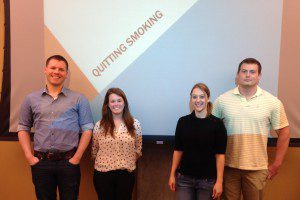 Student Catie Martin stated, "I thoroughly enjoyed the time we spent teaching the clients at Room at the Inn. It was a very rewarding experience to be able to teach these individuals about diseases and to see how much they already knew!"
Student Kandice Squires said she was impressed with how much her students learned during the class. "Teaching Diabetes Bingo at Room In The Inn was an incredible, enlightening experience," Squires said. "The attendees were very interactive; sharing their current knowledge, answering questions, and having discussions with each other and students, which demonstrated they were retaining the information presented during the game."