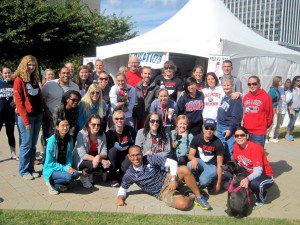 Members of Belmont's College of Pharmacy Student National Pharmaceutical Association (SNPhA) walked in the Oct. 4 HIV/AIDs Walk and 5k benefiting Nashville Cares. For the third year in a row, SNPhA has raised more than $1,500 to benefit Nashville Cares. The entire College of Pharmacy contributed through a bake sale as well as individual fundraising efforts. Nashville Cares is a charitable organization that provides lifesaving services to Middle Tennesseans living with HIV/AIDS as well as offers education, prevention and awareness of HIV/AIDS.
More than 30 walkers participated in this year's event including undergraduate Belmont students as well as College of Pharmacy students, faculty and administration. In addition to walking, both students and faculty volunteered at the Nashville Cares booth providing free HIV testing and education. More than 100 people were tested for HIV at the event.
This event was part of SNPhA's Remember the Ribbon initiative to improve HIV/AIDS awareness, education and prevention in minority communities. For years to come, SNPhA and the College of Pharmacy plan to continue to develop its partnership with Nashville Cares in providing quality and compassionate care for those living with HIV.