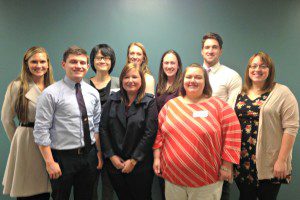 On Feb. 14, several of Belmont's fourth-year pharmacy students participated in the local "Interprofessional Team Geriatric Case Training" event. To ensure health professional students develop skills for working in interprofessional teams, the Meharry Consortium Geriatric Education Center hosts this annual team training. This is the third year Belmont University College of Pharmacy has been involved in this one-day event.
This experience serves as an opportunity for students to develop interprofessional collaborative skills by working as a team on a geriatric case and developing a patient assessment and treatment plan. Faculty experts are available to consult with teams, and nurse practitioners observe and rate team dynamics. The program concludes with an interactive general assembly where an interdisciplinary expert panel provides feedback and answers questions.
"It was great to see professionals from all different fields work together," said Logan Smith. "This allowed me to see how each profession depends on the other. This activity made me realize that medications can only do so much, but they do play a vital role in patient care."
Over 150 students studying health disciplines from several local institutions served as members of the interprofessional teams. In addition to pharmacy students from Belmont and Lipscomb University, medical students from Meharry Medical College, dietetic interns from National HealthCare Corporation and Vanderbilt University, physical therapy students from Tennessee State University (TSU), social work students from TSU and University of Tennessee, and family nurse practitioner students from TSU also participated in this event.
"Before this event I only had a vague idea of what was involved in social work and physical therapy and I was amazed at the scope of services provided by those two professions," said fourth-year pharmacy student April Beavers.
Kendall Shultes said, "The day confirmed that having a pharmacist as part of the patient care team is critical to ensuring appropriate drug therapy. I learned the team approach really helps to incorporate all aspects of care. Having the nutritionist to address nutritional needs to control chronic diseases such as diabetes and coronary artery disease as well as the social worker to address transport issues to get to the appointments was a great help."
"Having the opportunity to participate in this event was truly rewarding. It provided me with hope for my career as a pharmacist. It taught me that in order to effectively treat the patient as a whole, we have to seek the expertise of other disciplines and act as a team," said student Shannon McVeigh.
Kristy Oman said, "Learning from students representing the spectrum of healthcare disciplines while working together on a common patient is a rewarding experience."
Ashton Beggs, assistant professor in the College of Pharmacy, serves on the interdisciplinary faculty planning committee and expert panel for this event.
"Healthcare is moving more and more toward a team-based approach to patient care. This event helps students realize their value as a pharmacist and opens their eyes to the contributions other disciplines can make to promote the best patient outcomes," Beggs said.