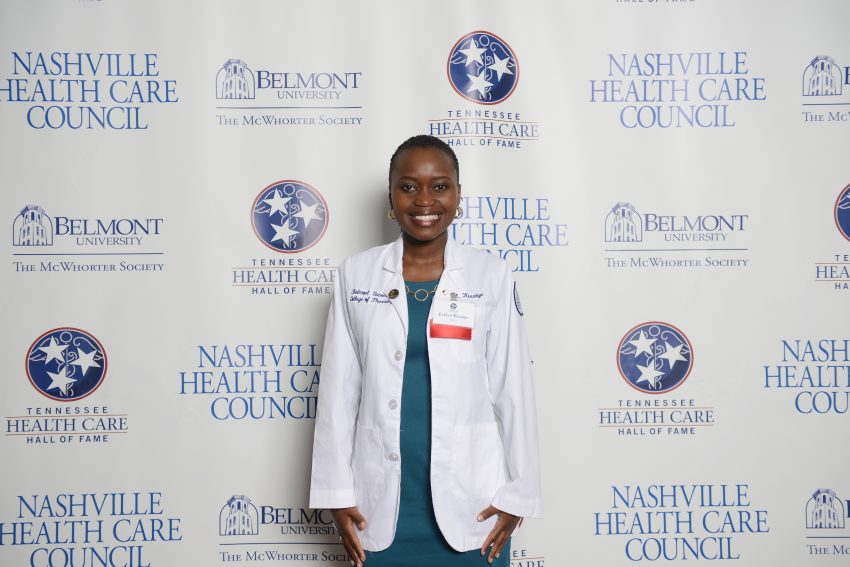 Eva Kisakye, a student in Belmont's College of Pharmacy, was recently named as an inaugural Thomas Hall Scholar through Child Family Health International (CFHI), an NGO focused on global health initiatives. Dr. Thomas Hall is a respected leader in global health, having worked for more than 60 years on improving the health of low-resource countries, providing medical care across the world and working to strengthen global health systems.
After a search that included nearly sixty applications, Kisakye was selected as one of the awards inaugural two recipients. A Ugandan native, Kisakye moved to the United States in 2008 to pursue her education. Passionate about community pharmacy, Kisakye will return to Uganda in October for a clinical rotation where she will work alongside mothers and children in an AIDS clinic, an opportunity she sought out and organized herself. The scholarship money will support Kisakye's time in Uganda.
"I hope to become well-versed in ways to increase healthcare access in resource-limited settings while addressing healthcare disparities and social determinants," Kisakye said. "Thanks again for giving me the opportunity to enhance my knowledge and clinical experience in public health while serving the people of Uganda."
CFHI's Executive Director said, Dr. Hall is a fearless advocate for the prominent position of young people in global health education, research, and practice. We are honored to support Dr. Hall's vision and expand his impacts.
The recipients' selection represents the end of a nationwide search for two future leaders in global health and a new step forward in Child Family Health International's passion for training individuals in a setting that establishes industry standards in ethics and patient safety.