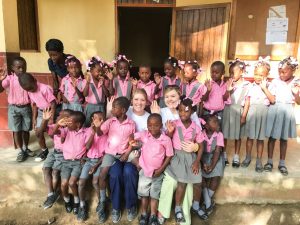 Fourth year pharmacy student Anna Whitwell and Assistant Professor in the College of Pharmacy Dr. Ashton Beggs recently returned from a week-long medical mission trip to Gobert, Haiti. Whitwell was selected for this Advanced Pharmacy Practice Experience last spring and was the third pharmacy student to participate in the annual opportunity. Working alongside Beggs, Whitwell was involved in all medication-related aspects of the trip planning, which began in the summer of 2016.
The pharmacy team was responsible for developing the medication formulary for the trip, facilitating the purchasing of medications and supplies from Blessings International and preparing medications for delivery to patients. Medications had to be labeled in both English and Creole, which is Haiti's native language. Several first year pharmacy students helped with trip preparations such as counting, packaging and labeling the medications prior to shipment.
While in Gobert, Whitwell and Beggs were in charge of aiding the providers in selecting drug therapy, dispensing medications and counseling patients on each prescription with the use of an interpreter.
"Haiti was a great experience," said Whitwell. "It allowed me to serve others while also applying my pharmacy knowledge to a diverse patient population. I'm so thankful for the opportunity."