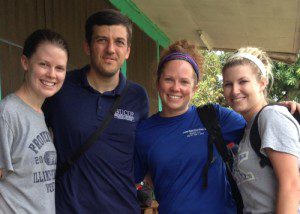 A small group of faculty and students from Belmont University College of Pharmacy (BUCOP) recently traveled to Honduras as part of the Baptist Medical Dental Mission to that country.  Dr. Adam Pace, Dr. Alisa Spinelli and two fourth year pharmacy students, Erin Oakley and Erin Mullen, joined a team of about 30 medical professionals who made the trip.
The team set up a medical clinic, dentistry clinic, and pharmacy in a schoolhouse in El Cedrito, a mountain village in the state of Yoro, and saw approximately 1,500 patients. About 5,000 prescriptions were dispensed through the pharmacy, 250 teeth were pulled by the dentist and 200 pairs of eyeglasses were distributed.  In addition, 180 individuals either professed a new found faith in Jesus Christ or expressed a renewal of their Christian commitment during the church services or through personal evangelism at the medical stations.
Pace oversaw the setup and operation of the dispensing pharmacy, while Spinelli provided clinical pharmacy services in the medical clinic by answering providers' questions about medications and by making recommendations about drug therapy. According, to Senior Missionary and Director John Ward, this was the first time in the history of the mission that a clinical pharmacist was dedicated to the medical stations. He commented that Spinelli's presence with the providers really smoothed out the process and greatly improved the quality of care.
As part of their advanced pharmacy practice experience, Oakley and Mullen split their time in the medical clinic and pharmacy with the professors. This experience was designed for the students to compare and contrast the provision of pharmacy services during a mission trip in Honduras to that of an indigent population in Nashville. The students had powerful experiences on the trip that will be tremendous in their spiritual and professional development, they said.
Mullins said, "I am so blessed to have been given this opportunity to use the knowledge and skills I've gained in pharmacy school to improve the health of those God sent to our clinic in Honduras. I arrived there ignorant, spoiled and complacent, but God opened my eyes and my heart to these wonderful people, and I returned home with a new perspective and gratitude for all that God has blessed me with. What an unforgettable, life-changing experience."
Similarly, Oakley said the trip was a life-changing experience.

"I was given the opportunity to immerse into an unfamiliar culture and use my knowledge gained at BUCOP to make an invaluable difference in the lives of many patients. The Hondurans were some of the most appreciative individuals I have ever encountered. If you open your heart to the Lord and the plan He has for you, you will go places and do things that you have never imagined," she said.