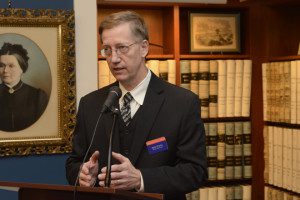 Dr. Mary Ellen Pethel's Making the Modern City class traveled to the downtown library on Jan. 20 for an off-campus lecture by Metro Archivist Ken Feith.
Feith's lecture served two purposes: explaining the evolution of Nashville as a city, as well as exposing students to the multitude of primary sources preserved and available for student and community use.  Students were also given a tour of the library's Nashville Room, Civil Rights exhibit and a small exhibit curated by Dr. Pethel focusing on the history of the West End Home Foundation. The Metro Archives maintains a collection of all primary source documentation, photographs, newspapers and maps related to Nashville and Davidson County.
The class has continued its exploration of cities through a variety of interdisciplinary lenses including urban planning,  the science of cities, gender, commercialized leisure, economics, class, race, public policy, transportation, ethnicity and urban history. After discussing Philadelphia, Detroit and Boston, among others, the class has turned to Nashville as an Urban Laboratory. As part of the class, students will likely return to the Metro Archives and Nashville Room for a primary source assignment as well as a larger final project.