Dr. Mary Ellen Pethel, Belmont Honors faculty member and distinguished author, recently published her third book, Athens of the New South: College Life and the Making of Modern Nashville, chronicling the history of higher education in Nashville from the end of the Civil War to the 1930's. She joined a panel of Nashville educators on Monday to discuss the book and the significance of Nashville's higher education system. The panel included three area higher education professionals including Vice President for Administration and University Counsel at Belmont University Jason Rogers, Dean of the School of Humanities and Behavioral Social Sciences at Fisk University Reavis Mitchell and Associate Director of Community, Neighborhood and Government Relations at Vanderbilt University and Chair of the MTA Board of Directors Gail Carr Williams.
With approximately 20 institutions of higher education and over 120,000 students, Pethel called Nashville "the most highly-credentialed community of intellectuals and educators." She argued that Nashville's emphasis on higher education was intentional, and, as former Nashville mayor Karl Dean once remarked, the higher education institutions are what kept Nashville afloat during its recent recession. The very presence of the Parthenon invites people to "come to Nashville to live, work and learn," Pethel said.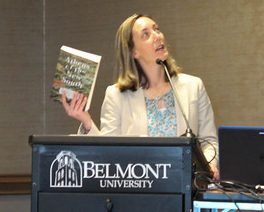 Her book also explores the education of women and minorities in Nashville. Pethel added that Nashville was a "magnet and a Mecca for black liberal arts and professional education." Mitchell went on to speak about the history of African American education in Nashville noting that the city's history as an educational hub began with the Civil War's end. "How do you incorporate 3,000 freed slaves into society?" he asked. "The answer: you educate them." Accordingly, what is now known as Fisk University opened in Nashville as the Fisk Free Colored School.
Today, higher education institutions continue to shape Nashville's communities. As Carr Williams, noted, "You should engage with the community you're in in a myriad of ways, particularly when you have the resources that colleges and universities have." These resources include research, interested students and leaders in various academic fields. In her position, she said, "We're taking this intellectual capital and sharing it to enhance the greater Nashville area."
Rogers commented on the power higher education has played throughout the city saying, "Institutions of higher education in Nashville have embodied the best of Nashville and reflected it back to Nashville." This is especially true considering the fact that, according to Pethel, 60 percent of Nashville college and university students remain in Nashville after they graduate. She said that Nashville has created a "talent pipeline, continually investing in the city." Mitchell closed the panel discussion by reminding the audience that Nashville is known as the Athens of the South for a reason. "Why do you come to Athens? You come to Athens to be educated!"