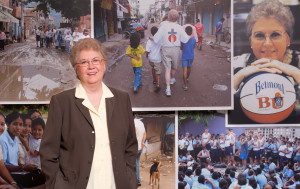 Legendary basketball coach and former Belmont Athletics administrator Betty Wiseman was named one of the 2014 recipients of the Ohio Valley Conference's Thurston Banks Award for Distinguished Academic Service, as announced by the league office on Friday.
The award, selected by the OVC Faculty Athletics Representatives (FARs), was established in 2013 to recognize individuals (e.g. academic advisor, professor, tutor, etc.), with at least five years of service at one or more OVC member institutions, for their outstanding contributions to OVC student-athletes' academic success, learning and development as well for his or her overall commitment to the institution's athletics program.
The award is named after Dr. Thurston Banks, who served the Tennessee Tech Department of Athletics for 31 of his 34 years on the faculty and served as the Faculty Athletic Representative (FAR) for 25 years before stepping down in 2006. He was inducted into the OVC Hall of Fame in 2007.
"Betty clearly epitomizes what the Thurston Banks Award represents.  She has been on the Belmont Campus for half a century as a student-athlete, coach, senior woman administrator, mentor and spiritual leader," said Dr. Rich Tiner, Belmont's faculty athletics representative and professor of media studies.
"She has touched thousands of lives and left her mark as the one who had immense positive impact on every one of those lives. She has consistently been a demanding encourager to student-athletes to give their best, athletically and academically, every day. Scoring points was never enough. She expected athletes to work as hard in the classroom as they did on the court, but she also instilled in them the confidence to know that they could excel in both," said Tiner.
Wiseman retired in May 2013 after spending 48 years at her alma mater, most recently as an assistant athletic director and senior woman administrator (SWA).  During her tenure she was a student, coach, professor and administrator as well as being an ambassador for the University.
In her time at Belmont, she served as a liaison between the Department of Athletics and Student Affairs, coordinating counseling, discipline and drug testing and also serving as an adviser to the Belmont Student-Athlete Advisory Committee (SAAC). She also worked with teams as they participated in service opportunities, including organizing and leading a yearly foreign mission trip to such places as Poland, Portugal, Brazil and Italy.
While at Belmont, she served as an associate professor of health and physical education and was named a professor emeritus in the Department of Health and Human Performance in 2006.  In 1968 she started the women's basketball program at Belmont and would serve as the team's head coach for 16 seasons, compiling a 248-152 record and leading the Bruins to four consecutive berths in the National Women's Invitational Tournament.
In 1999, Wiseman was given the Jostens-Berenson Lifetime Achievement Award by the Women's Basketball Coaches Association (WBCA) during the NCAA Women's Final Four to recognize her professional lifelong commitment of service to the game of women's basketball.  Four years later, as the Curb Event Center opened, Belmont honored her by naming part of the university's new athletic facility the Striplin-Wiseman Athletic Office Complex.  She is a member of the Belmont and Tennessee Sports Hall of Fame, named a Tennessee Sports Legend by The Tennessean newspaper and was recognized as a pioneer by the OVC in the league's celebration of the 40th anniversary of Title IX.
"I am both honored and humbled to have been nominated and to receive this award. God's call on my life from the beginning was to be a teacher," said Wiseman.  "I spent 40 years as a member of Belmont's faculty and my work as a coach and Athletic Administrator was 'icing on the cake.'
"Our athletes are students first and that is why I always refer to them as 'student-athletes.'  To be nominated for this prestigious award is an honor."
Wiseman and co-winner, Andrew Smith of Tennessee Tech, will receive the prestigious award during the 2014 OVC Basketball Championships, held March 5-8 in Nashville.