Music therapy has been utilized as a form of healing in the military for more than 70 years. The practice dates to 1945 when the U.S. War Department issued a bulletin highlighting a program using music therapy to aid recovering service members convalescing in Army hospitals. Music Therapy as a modern occupation can be traced back to a desire to give back to those who have served. Today, Belmont University and Operation Song, a local nonprofit public charity, are dedicated to the same mission.  
Operation Song was founded in 2012 by Bob Regan, a former Belmont Songwriting adjunct instructor, who first developed the idea while performing at Armed Forces Entertainment Tours around the world. Throughout these tours, Regan had the opportunity to speak with veterans and active-duty service members and saw how their stories and experiences had the potential to inspire compelling songs. He also recognized that many veterans were in the process of transitioning back to "normal life" after deployment and thought a program such as Operation Song could be beneficial.
Holding to the motto "bringing them back, one song at a time," Operation Song started with group writing sessions taking place at VA Medical Center in Murfreesboro, TN and gradually evolved to focus on individual veterans and stories. To date, the organization has written more than 1,000 songs with veterans spanning from World War II to those currently serving. Operation Song's mission is to empower veterans, active-duty military and their families to tell their stories through songwriting. No songwriting—or general writing—experience is needed for veterans, as that is where Belmont comes in.  
Belmont's Songwriting program has partnered with Operation Song since 2015 to host co-write events where professional songwriters, Belmont songwriters and veterans combine forces to inspire hope and healing through music. In recent years, student veterans have become increasingly more engaged in the Operation Song initiative through Belmont's Bruin Vets program, creating a deeper connection between the two organizations.
Most recently, Belmont's Songwriting program and The Nashville Songwriters' Hall of Fame hosted Operation Song for their annual writing retreat in October 2022. One professional songwriter and one Belmont senior Songwriting major paired with veterans to tell their experiences through music.
Aeva Willis is vice president of Bruin Vets at Belmont and participated in the writing workshop in October. She recently transferred to Belmont and is still settling into her first year here. After first hearing about Operation Song through the Bruin Vets Center—a space on campus for student veterans to congregate and do homework, find support, or simply hang out—Willis recalled, "I had no idea what to expect." However, being an Audio Engineering major and a singer-songwriter, she knew she'd feel at home. "I was new to Belmont and wanting to do something fun."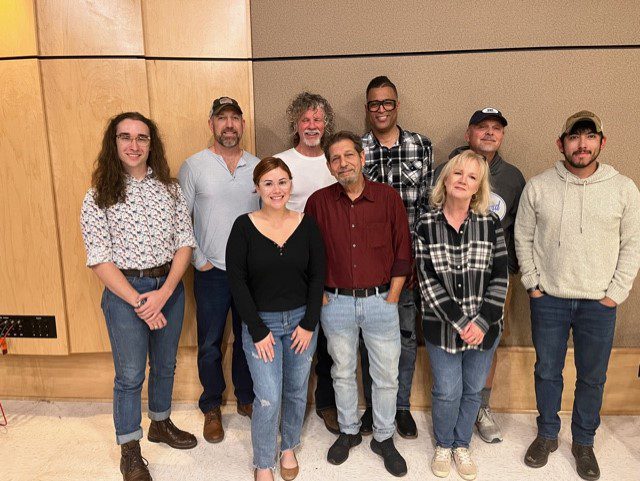 The workshop turned out to be a wonderful experience for her. She appreciated the chance to connect with other veterans and network with professional songwriters.  
When sitting down to write a song about her experience in the military, she said, "I decided to go a little bit of a different route. I wasn't sure how to put my experience into a song, but I knew that through my experience, my faith had grown even stronger."
With this in mind, she and multi-platinum songwriter Wil Nance decided to write a Christian-Country tune chronicling her journey from the Navy to Belmont. Although she's spent plenty of time writing music, she had never had an opportunity like this to work with professionals in the industry.
"I was shocked when I got there and found out who my songwriter was," she said. "I've heard all his songs, and I love them. It just made it even better."
Willis spoke of the impact that Operation Song and Belmont's partnership has had on veterans. "It was a life-altering perspective switch to be in the room with someone who's done this before. There is proof by millions of copies sold that the way Wil writes has connected with someone. Not only someone but millions of people! It was a humbling but inspiring moment."  
She described having the opportunity to perform her song for her peers as "the cherry on top." 
She took the performance as an opportunity to pour out everything she needed to say. Willis said that her song "God Never Sleeps," is about feeling uneasy about the future, worried, and wanting to predict what will happen. The song is a reflection on letting go and letting God watch over her. 
With plans to professionally record the song and release it soon, Willis is excited about what the future holds and feels that Belmont and Operation Song's partnership is a positive force in the Nashville veteran community. "To be in Nashville, to be new to Belmont, and to have the opportunity to work with a professional, it was very motivating and inspiring."