Putting their design on a national stage, Belmont O'More interior design alumni Evan Millard, Betsy Trabue and Lauren Moore – partners in Modern Remains A Design Atelier – recently contributed their expertise to three areas of House Beautiful magazine's second annual Whole Home Concept House in Nashville.
The 6,200 sq. ft. home is constructed in the English Arts and Crafts style and created in partnership with Castle Homes. The Whole Home Concept House debuted at the same time as House Beautiful's November 2019 issue, which features the house in its completed design. "The idea was simple," the cover story conveys, "Ask 14 designers from around the country to create spaces in which every design element has a purpose, and every room evokes a feeling. The result is more than a home–it's an experience that brings you joy, energy, calm and focus."
Earlier this week, the alumni shared the spaces they designed and their inspiration with a group of O'More faculty and students, who were invited to attend a media tour of the home.
The trio behind Modern Remains delivered a top floor media room that acts as a central zone for game and movie nights along with a neighboring landing area at the top of the stairs. Moore noted, "We wanted to evoke a feeling of calm when you entered the space," remarking how the media room serves multiple purposes thanks to the installation of beautiful, well-positioned curtains. "A media room doesn't have to focus solely on the television. We wanted to design a space where you can tuck away with a book, gather with the family or have movie night."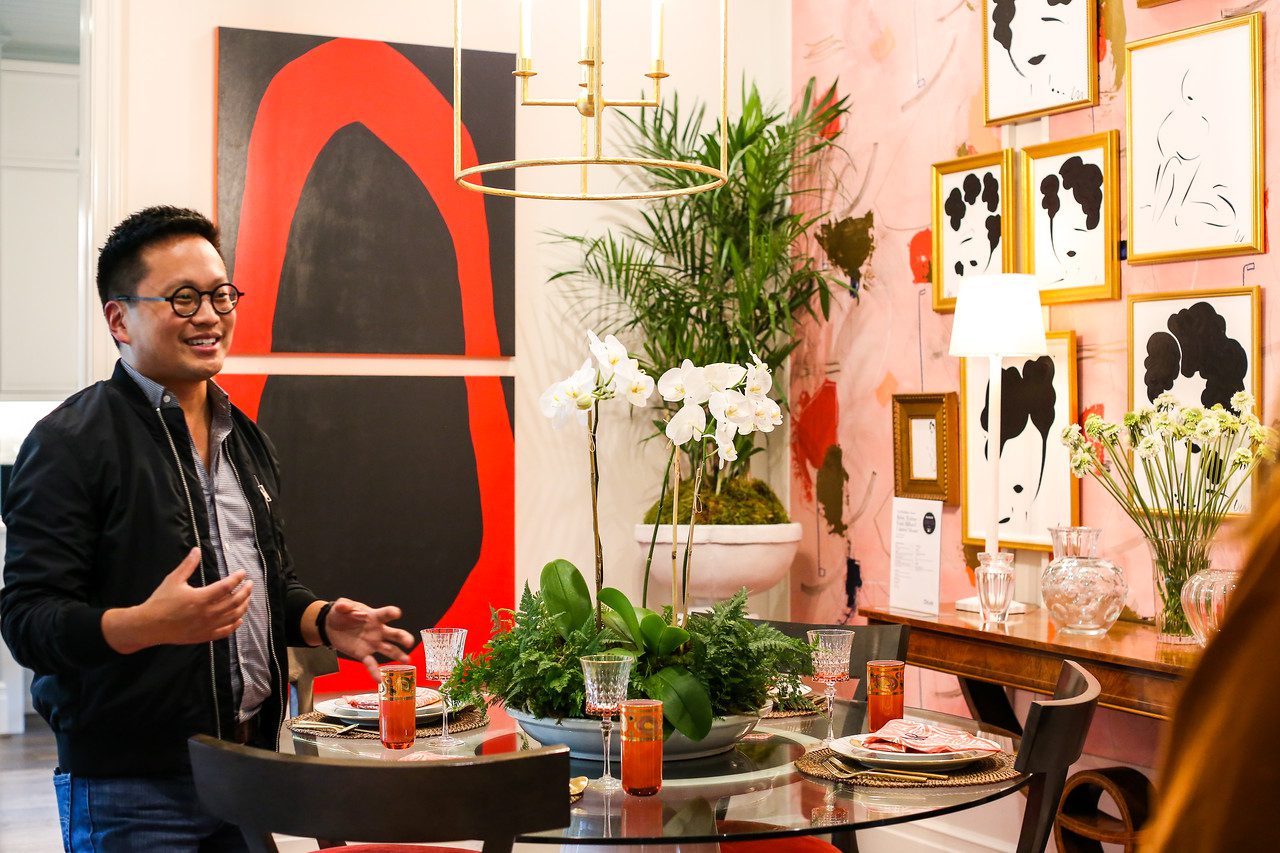 Modern Remains also designed a colorful breakfast area off the main kitchen that features a bright and cheerful palette filled with shades of pink, red and orange. Noting parrot tulips as its inspiration, Millard said, "We wanted to create a place that just made you happy."
Millard also explained how the Modern Remains team used an innovative approach in the breakfast room, installing hand-painted abstract panels on the walls and using them as a backdrop for a dozen black and white framed silhouettes who represent 13 iconic female country music artists. "It's important for the design of a space to be considered in its entirety, thinking about all layers from floor to ceiling to ensure all of the elements tie together."
House Beautiful's Whole Home Concept House is open for tours daily now through November 3 in the historic Belle Meade area of Nashville. Tickets are available via CastleHomes.com, and proceeds from the home tours benefit the Nashville Symphony.