In January 2015, The Discovery Center formed its Special Needs Task Force to foster an environment that allows exploration without barriers. Yesterday, it unveiled its brand new "Chill Zone," a calming room to offer to children and families experiencing distress, funded by a grant from the Nashville Predators Foundation. But, designing such a room required architects, creatives and occupational therapists. That's where Belmont students and faculty stepped in.
Dr. Teresa Plummer, associate professor of occupational therapy, came in contact with this project during her sabbatical in the fall semester. She provided expertise as an occupational therapist for the "Chill Zone" project and made recommendations for beneficial items to include. Once the ball was rolling, Plummer reached out to Jayme Jacobson, assistant professor of architecture, with the opportunity for interior design students in the O'More College of Architecture, Art and Design to engage with the project. Jacobson immediately adjusted the studio schedule to make it work. With the studio having an inclusive design focus, this provided an extraordinary service-learning opportunity.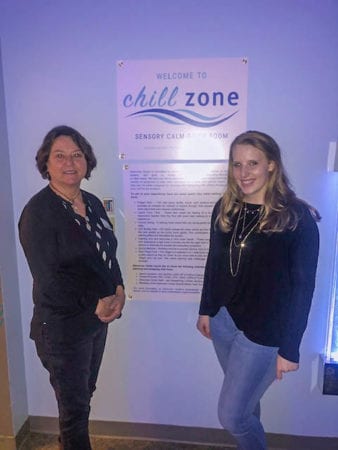 "Sometimes our students just need to hear that we believe in them," shared Plummer. "In action, that means we provide them with opportunities to collaborate with other disciplines in volunteer opportunities. They realize we are all part of the same world, which blurs the line of inclusion. Students are part of the solution. Their gifts to our committee come full circle to reinforce their sense of belonging and understanding. We are one."
A group of four design students and one occupational therapy student including current students Chloe Burch, Kat Stevens, Brittany Chamberlain and Stephanie Rathlef visited the space for the "Chill Zone" and put together a design proposal incorporating Dr. Plummer's recommendations and the Discovery Center's goals. The students assisted with the theme, color, feel and materiality of the room.
After researching design strategies for calming spaces and sensory activities, the group proposed a custom bench design with storage underneath and material selections and services provided at a discounted cost to the Discovery Center.
"It is especially rewarding for students to see their design work come to life in a real context, and even more so when it has a positive social impact as it surely will at the Discovery Center," said Jacobson. "Dr. Plummer and I both celebrate real-working learning and social impact. This was an exciting opportunity in which we were able to contribute."