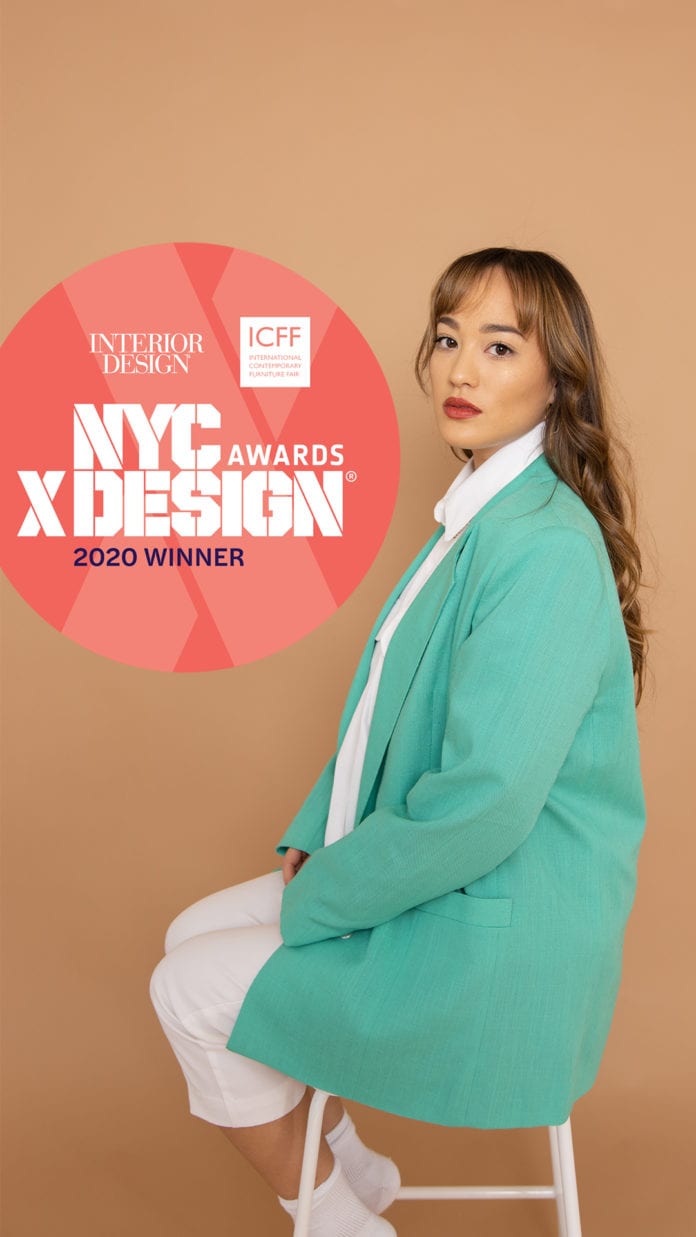 Rising junior Halle Huff was recognized as a winner in the 2020 NYCxDesign Awards Student Product Design category, hosted virtually this year by Interior Design magazine and the International Contemporary Furniture Fair on May 18. Now in its fifth year, the NYCxDESIGN Awards honor outstanding top projects and products in categories that span major areas of design.
This year, winners and honorees were chosen from 555 total entries, with 343 products, including those coming to New York City from 24 countries, and 212 projects representing all five boroughs in the mix. In addition to Huff, the five other student winners represented renowned schools such as Pratt, Rhode Island School of Design, SCAD and others. The student category can be viewed beginning at minute-marker 58:19 on Interior Design Magazine's Facebook video.
Huff said she feels honored to be next to the other five students' "incredible" designs. "It is a really validating feeling to be recognized among other students from renowned schools like RISD," she said. "I couldn't be happier to represent Belmont."
Huff's winning piece was an assignment created for Susan Besser's Design History class where students were directed to create a textile design, furniture piece and a light fixture from an art movement the class studied during the course. Huff's piece is from The Aesthetic Movement as she was "captivated by the mantra of it – 'art for art's sake.'" A movement that really resonated with her, The Aesthetic Movement was a late nineteenth century movement that emphasized bringing art into everyday life.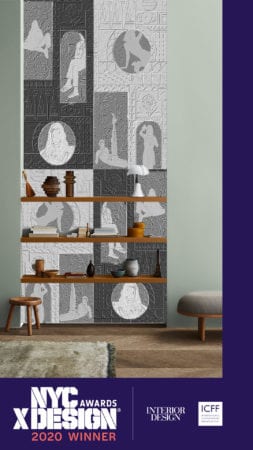 "Think of it like the original lifestyle photography where you would see flaming, red-haired beauties, medieval geometric design and Japanese motifs all draped along a chaise in a living room. Aestheticism would become a part of all areas of life – from music and literature to interior design and fashion. At its heart was the desire to create self-expression over moral expectations." Huff explained. "In a time where we are all confined to our homes, it has allowed us the creative freedom to try something new. We are looking around at our own space in a different light and trying to bring beauty to it."
Huff said she took to her balcony with a cup of coffee and a notepad for the sketch phase of her design. She began drawing with no particular goal in mind– a page that now looks illegible. It consisted of a coffee table made of geometric peacock heads and a sconce from a smashed Japanese vase. Huff stepped back and looked at it from afar and saw the shape of a woman, which made her remember the famous painting "Flaming June" by Frederic Leighton from the Aesthetic Movement.
"Thus, my wallcovering 'Flaming June 2.0' was created," she explained.
The piece is intended to be an anaglyph, so one could paint over top of it in any color while still having an embossed effect. Huff's submission was white with some parts dark grey.
Huff would have never entered the competition if it were not for Susan Besser, adjunct instructor in Belmont's O'More College of Design. "She is a wealth of knowledge and the type of teacher that really cares about the future of her students. I honestly couldn't have done it without her encouragement," said Huff. "When working from home in a design major, it's easy to have doubts when you don't have others to bounce ideas off of. At O'more we really rely on each other for feedback. Mrs. Susan Besser is someone who I will go to for advice in my professional career. I value her opinion, and any student is lucky to have her!"
Huff said Nashville will always have a special place in her heart, but she dreams of traveling to Morocco after graduation or working for a company that travels around the world. She is currently creating a website to sell her designs, named after her grandmother Cenona. Overall, she said she is excited to see what year three at Belmont has to offer.
A portion of this year's proceeds from the NYCxDesign Awards will be donated to the COVID-19 Solidarity Response Fund.