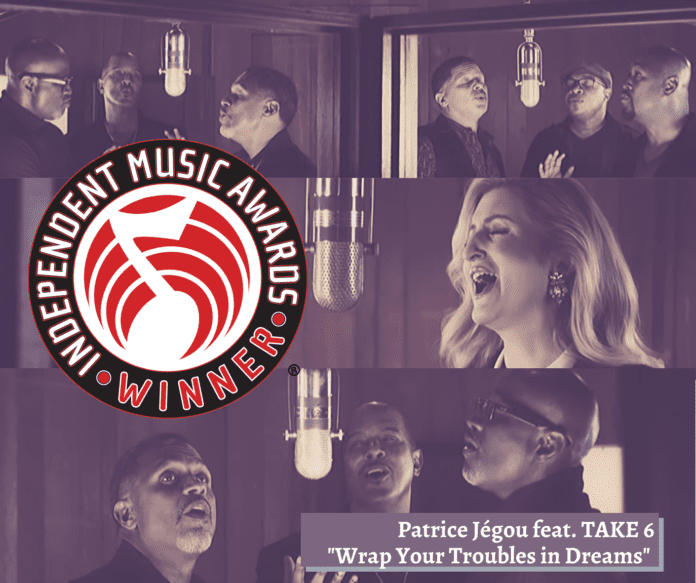 Alumna Patrice Jégou, who graduated from Belmont in 2000 with her Master of Music degree in Classical Vocal Performance, recently won the 2020 Independent Music Award for Best A Cappella Song for "Wrap Your Troubles in Dreams," featuring 10-time Grammy winners Take 6.
The winning track, "Wrap Your Troubles in Dreams," is from Jégou's latest album, "If It Ain't Love." The music video has more than 40k views on YouTube, and Jégou's recent guest performance of this piece with Take 6 at the world-famous Blue Note Jazz Club in New York City was a true crowd-pleaser. Jégou, along with Mark Kibble and Alvin Chea from Take 6, also won this category last year for the track "Lover Come Back to Me," arranged by Kibble.
Jégou is currently working on a new album of inspirational music that features collaborations with Mark Kibble and Khristian Dentley from Take 6; renowned Nashville-based pianist Pat Coil (keyboardist for Michael MacDonald), and Dr. Wayne Bucknor (Professor of Piano at Oakwood University).
Now in its 18th year, The Independent Music Awards, produced by Music Resource Group, honors the exceptional work by indie creatives from around the globe. The planet's most diverse music awards program honors artistry and daring rather than streams and social reach and celebrates everything that makes indie music authentic and unique. With the world currently in lock down, The IMAs canceled this year's live ceremony, and instead announced the year's best self-released and indie label projects online. View all 18th IMA Winners here.
The winning projects were selected by influential judging panelists including: Tom Waits and Kathleen Brennan, Robert Smith, Ziggy Marley, KT Tunstall, Dee Snider, Drowning Pool, Roberta Flack, Jaci Velasquez, Coolio, Joshua Bell, Beth Gibbons, Joe Satriani and many more indie creatives, top recording artists and industry influencers. View all 18th IMA Judges here.
"The world needs to hear from independent artists now more than ever. We didn't want to keep it waiting", said The Independent Music Awards Executive Director, Martin Folkman. "There's no telling how long it will be before we can all meet face to face again, so The IMAs reimagined this years' live award show as an ongoing, online showcase for extraordinary indie artists everywhere. So even if artists can't travel, they can take a virtual victory lap in front of worldwide audience, and be recognized for excellence."