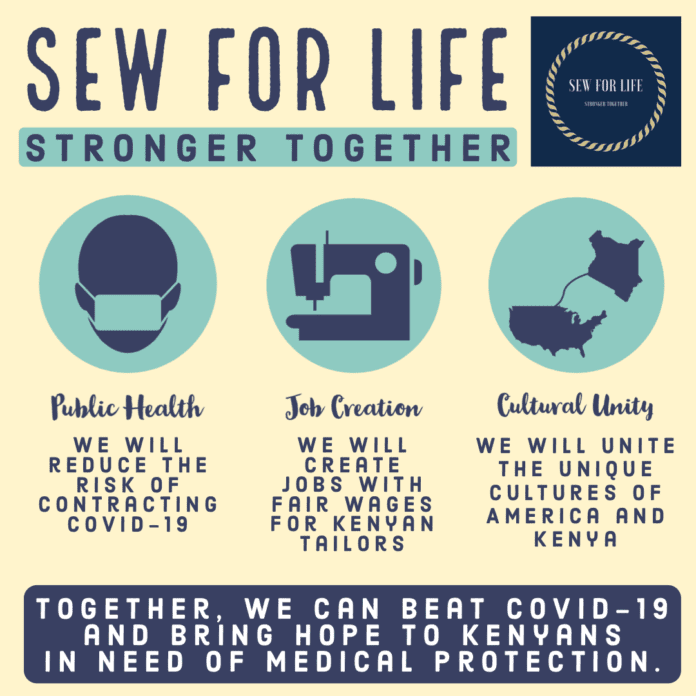 Kipkosgei Magut, a former Belmont student-athlete and Kenyan native, is now an entrepreneur out to help his homeland during the COVID-19 pandemic. In partnership with The Addis Clinic, Belmont University Enactus, Kenya Association of Middle Tennessee and Uniti Health, Zyllion Technology and Kenyans in the Diaspora are launching Sew for Life, a campaign to make one million masks for Kenyans who cannot afford them.
"We are all living in unprecedented times due to the pandemic; unfortunately, my homeland Kenya has not been spared. According to health experts' models, COVID-19 will infect 200,000 Kenyans," said Magut. "It is in times like this that, as an entrepreneur, I innovate."
More than 100 tailors have been recruited for the effort and there is a Facebook Fundraiser underway to mobilize resources needed to bring the idea to fruition. All donations will go to The Addis Clinic, a 501(c)3 non-profit providing telehealth work in Kenya, to compensate tailors and acquire raw materials to make the masks.
Magut spoke with News Channel 4 about the impacts he hopes to see from the campaign.
Mass transportation systems in the U.S. are associated with Uber, Lyft or even the New York Subway system—all of which present challenges in the era of social distancing. However, in Kenya, mass transit comes in the form of five or twelve-seater cars hauling passengers seated side by side to hospitals, grocery stores, work, hospitals or any other destination in the city. Very few people, if any, have a personal mode of transportation. Public transportation is akin to grocery stores in America; it is an essential thing difficult to escape, no matter the adherence to social distancing.
Additionally, Kenya is home to the second-largest slums in the world with an estimated population of anywhere between 500,000 to 1 million. People in Kibera are lucky to earn the U.S. minimum wage. They lack running water or proper restrooms. COVID-19 has only made their struggles worse. Since Kenya has imposed a lockdown, many people in Kibera and other slums such as Mathare have lost their jobs and cannot afford to buy food or medicine, let alone masks or other forms of protection.
"Each one of us, no matter our economic status, deserves a chance to breathe without worrying about contracting COVID-19 because they did not have a $1 mask," said Magut. "Please join us and provide a mask to someone in need. Together, we can beat COVID-19 and bring hope to Kenyans in need of medical protection."