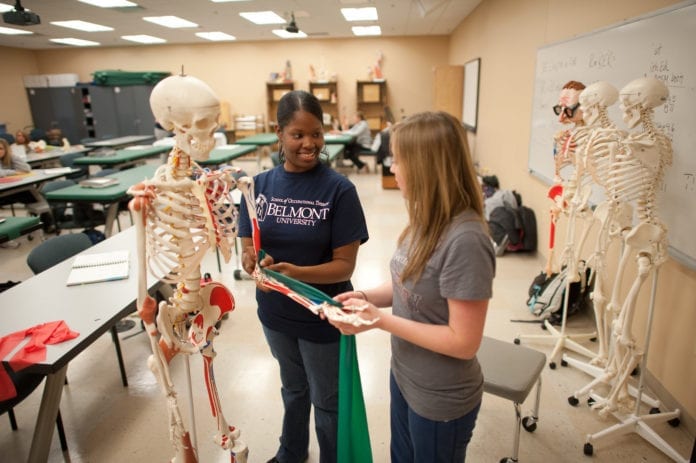 Belmont University's Occupational Therapy Master's Program recently received full accreditation from the Accreditation Council for Occupational Therapy Education (ACOTE) of the American Occupational Therapy Association (AOTA). The status was granted for a period of 10 years. The program's Interim Report will be due in spring 2024, and the next on-site evaluation will be scheduled within the 2029 academic year.
Dean of the College of Health Sciences and Nursing Dr. Cathy Taylor said, "We are so proud of this extraordinary achievement. While we see the dedication and hard work of program faculty, staff and students every day, such recognition for excellence is especially meaningful when it comes from respected peers."
As one of the first in the country to gain professional accreditation at the doctoral level and with a unique master's program providing advancement opportunities for occupational therapy assistants and physical therapist assistants throughout the U.S., the Belmont University School of Occupational Therapy leads the way in educating future occupational therapists. Students receive a comprehensive education from experienced practitioners, utilizing the latest methods and technologies in an environment that encourages life-long learning, service and advocacy.
The ACOTE onsite team is comprised of expert reviewers who evaluate the overall effectiveness of the program relative to its mission and success with respect to student achievement. Chair and professor of the School of Occupational Therapy Dr. Lorry LiottaKleinfeld explained programs can be granted a five, seven or ten-year period for re-accreditation based on the recommendations of the team.
"While a 7-year period for re-accreditation is the standard timeline that is awarded, the 10-year period for re-accreditation that the MSOT program was awarded reflects the finding of the exceptional educational quality of our program," said LiottaKleinfeld. "I believe that the quality of our program reflects not only a sound curriculum taught by expert faculty but reflects the involvement of community partners from across the United States and the qualities of our students who are at the heart of our program."
Graduates of Belmont's program will be eligible to sit for the national certification examination for the occupational therapist, administered by the National Board for Certification in Occupational Therapy (NBCOT). After successful completion of this exam, the individual will be an Occupational Therapist, Registered (OTR). In addition, all states require licensure in order to practice; however, state licenses are usually based on the results of the NBCOT Certification Examination.
Accreditation has been a stated function of the American Occupational Therapy Association (AOTA®) since 1923. AOTA's Accreditation Council for Occupational Therapy Education (ACOTE®) is recognized as the accrediting agency for occupational therapy education by both the United States Department of Education (USDE) and the Council for Higher Education Accreditation (CHEA). ACOTE is also an active member of the Association of Specialized and Professional Accreditors (ASPA). ACOTE currently accredits over 400 occupational therapy and occupational therapy assistant educational programs in the United States and its territories.