Fashion designer, graduate of O'More College of Design and Adjunct Instructor at Belmont's O'More School of Design Ashley Balding recently received awards from the Nashville Fashion Alliance at their annual NFA Honors event.
Founder of Nashville-based Ona Rex, a women's fashion brand, Balding runs the business and designs and creates the brand's clothing lines. Since its beginning, the brand has released six different lines, with their newest, The Workwear Collection.
At the NFA event, Balding took home two awards for her work with Ona Rex. The first was for Women's Wear Designer of the Year, and the second, along with photographer Brett Warren, was for Creative Collaborators.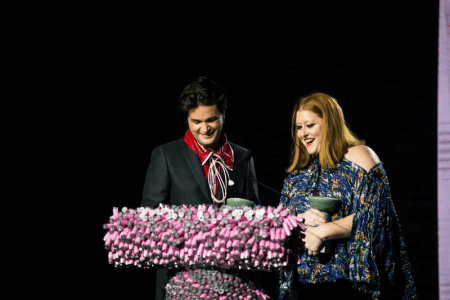 "I'm so incredibly excited to be the recipient of the Women's Wear Designer of the Year award, as well as the Creative Collaborators Award alongside my dear friend and artistic partner, Brett Warren," said Balding. "My goal is to always continue to explore new ways to get excited about design innovation and find new inspiration in each collection.  It means so much to me that my peers and the Nashville Fashion Alliance are just as excited about this exploration as I am! I'm excited to see what's next!"
Balding teaches several courses at the O'More School including Introduction to Fashion and Clothing Construction I. She is very passionate about fashion and thankful for the community O'More has given her. "O'More School of Design has not only been a huge support of my path, but they instilled the desire to push boundaries from the beginning. I'm so grateful to have such a great community around me."