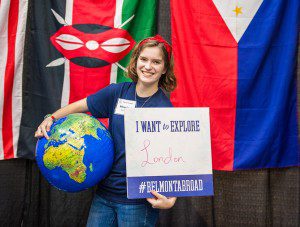 The Institute of International Education recently released its most recent Open Doors Report, a comprehensive ranking of U.S. schools by the number of students studying abroad. As Belmont's Office of Study Abroad has grown significantly in past years, the University ranked for both undergraduate study abroad participation as well as graduate.
For the 2012-2013 school year, Belmont ranked No. 29 on the Top 40 Master's Institutions Total Student Participation. The University had 368 undergraduate students study abroad and 99 graduate for a total of 467. The University also ranked No. 40 for the 2012-2013 Master's Institution's Undergraduate Participation.
Assistant Provost for Interdisciplinary Studies and Global Education Dr. Mimi Barnard said, "Belmont has just released Vision 2020, which is a reflection of who we want to be and where we want to go as a University. Global Education, which includes Belmont students studying abroad and international students coming to Belmont, especially as a result of new institutional partnerships, will play an important role as we implement more international opportunities for students and faculty. Additionally, we are intentionally targeting underrepresented populations—first-generation students, STEM students and athletes, to participate in our diverse international programming. We are increasing opportunities for faculty in discipline-specific and strategic international locations, and we are thrilled to be included among the institutions ranked on IIE's Open Doors Report."
From 2012-2013 to 2013-2014, the University saw a 28 percent increase in study abroad participation, and the Office of Study Abroad now works with more than 60 faculty members on 32 short-term programs. Additionally, student participation has doubled since 2008-2009 when 178 students participated, compared to 488 in the 2013-2014 school year.
"As part of our institutional mission, Belmont is committed to providing students with ways to engage and transform the world.  Study abroad provides a pathway to make this a reality.  Being ranked by IIE on the Open Doors Report is evidence that Belmont values international education and has devoted resources to expanding opportunities for students," said Director of the Office of Study Abroad Shelley Jewell. "Ultimately, we are preparing our students to become graduates who live, work and serve communities around the world."