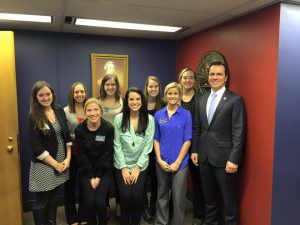 On March 3, more than 50 Belmont Occupational Therapy Doctorate (OTD) students attended Tennessee Occupational Therapy Association's (TNOTA) Day on the Hill.
The students joined a group of 120 other students and practitioners from across the state, forming the largest organized representation to date for TNOTA Day on the Hill.
The group was led by Belmont Professor of Occupational Therapy Dr. Hachtel and John Williams, TNOTA's state lobbyist who provided an orientation regarding pertinent bills potentially affecting the profession on the state legislature's docket this session.
After the orientation, the students met with Health Committee members to discuss the role of occupational therapy and how specific bills affect services provided to the legislator's constituents. Additionally, Belmont OTD students helped staff TNOTA's booth at Legislative Plaza to promote the profession to all state government officials.