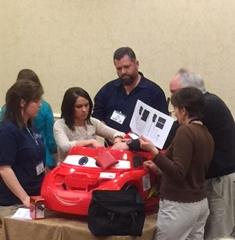 Six doctoral students from the School of Occupational Therapy recently joined with Assistant Professor of Occupational Therapy Dr. Teresa Plummer, Professor of Physical Therapy Dr. Nancy Darr and several graduates of both programs to teach a Go Baby Go preconference workshop at the annual International Seating Symposium (ISS) held in Nashville this year.  The ISS is the lead educational and scientific conference in the field of wheelchair seating & mobility and related technologies.
The student presenters included Elizabeth Davis, Gabrielle LaGrace, Emily McClearran, Jayme Mills, Kelly Phipps and Betsy Philo, all second year Occupational Therapy Doctorate (OTD) students.  OTD alumna Cassie Swinehart and Doctorate of Physical Therapy alumna Marna Jane Bevill assisted in the presentation, coordinated with Go Baby Go Music City and the Center for Independent Living.
Workshop participants were instructed in how to modify commercially available ride-on toys for young children with disabilities. Several children with physical disabilities participated in the workshop and received ride-on cars modified by participants with assistance from instructors and volunteers. Modified ride-on cars enable children with physical disabilities to interact and play with peers thus improving communication, vision, cognition and motivation to move.