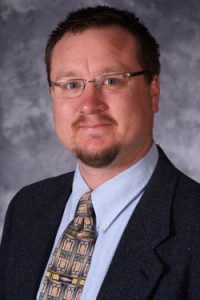 Belmont Associate Professor of Biology Dr. John Niedzwiecki led the Adventure Science Center's Science Café today, Thursday, August 20, and gave a talk titled "The Role of Ecology and Geography in the Speciation of Darwin's Finches." The adaptive radiation of Darwin's finches from one species to about 15 within the Galápagos Islands was one of the inspirations for Darwin's theory of evolution and continues to be a focal point in evolutionary studies today.
Using modern molecular techniques, participants examined conditions where this radiation took place. Results support the idea the radiation occurred without complete geographic isolation between islands, and that island characteristics may influence between islands. Niedzwiecki presented his research and discussed other species on this isolated archipelago.
Niedzwiecki's research primarily focuses on population genetics, evolutionary biology and behavioral ecology. Most recently, he has worked on the migration of Darwin's Finches between islands in the Galapagos, investigating connections with ecology as well as the evolutionary consequences of migration, as a postdoctoral research fellow at the University of Cincinnati.
For his dissertation work at the University of Kentucky, Niedzwiecki worked extensively with ambystomatid (mole) salamanders in the South and Midwest, including salamanders from Murfreesboro. His research showed that these salamanders were evolutionarily distinct from their relatives in Kentucky and central Ohio. He has also worked with other researchers to assess the status of these salamanders in Tennessee.