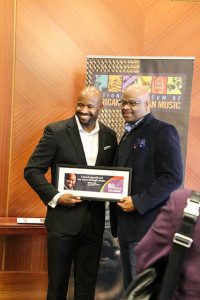 On Friday, Feb. 19, Curb College Dean Doug Howard led a question and answer session with the Grammy, Emmy and Dove award-winning artist Shannon Sanders. Students filled the Vince Gill Room for "Coffee and Conversation," presented by the National Museum of African American Music, with the producer, songwriter, vocalist, musician and arranger who currently serves as the president of Nashville's Recording Academy.
The seminar opened with Howard quoting Sanders and saying, "To create is to cause something to exist. When you create, you invest. When you invest, you invent. When you invent, you perform. When you perform, you evolve."
As a Nashville native, music has always been an essential part of Sanders's life. He told the crowd how he walked and rode his bike up and down Music Row. He noted that Nashville has always been a great place to be creative, but at the time he was getting started it was only home to country music so he had to figure out how to write, produce and arrange music on his own.
It turned out that Sanders was successful at paving a path for himself because by the time he was 15 he began putting out records. Coincidentally, this was also the time when the authentic form of hip-hop music was born. "A culture was emerging and the city was figuring out how to embrace it. Everywhere I was, music was happening and it was happening at a high level," said Sanders.
Sanders said he continues to be surrounded by music, now. He has worked with John Legend, India Arie, Jesse McCartney, Randy Travis, The Proud Family, Grey's Anatomy, Shark Tale and Stomp The Yard.
Sanders ended the seminar by discussing his songwriting process and how to avoid writer's block. He talked about the background of some of his songs, including Grammy nominated "Good Man" and the heartwarming "Daddy's Little Girl."