A group of Belmont Musical Theatre students saw their dreams on the stage come to life on Friday, September 28 when they had the chance to perform two songs with Broadway star and award-winning actress Kristin Chenoweth at the Nashville Symphony. Instructor of Musical Theatre Jo Lynn Burks was approached with this opportunity by Mary-Mitchell Campbell, Chenoweth's conductor and a personal friend. She and her team were interested in including a group of students in their upcoming Nashville performance.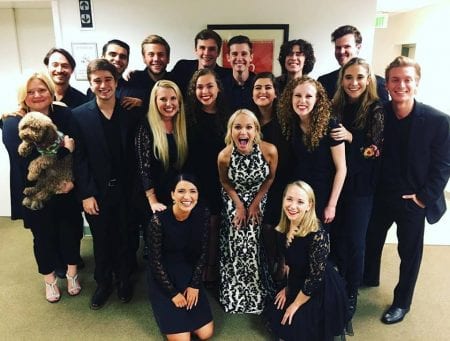 Together, the group performance two faith-based songs — "Reasons for Hope" and "Upon This Rock." It's these types of unique, professional opportunities that afford students with the chance to truly experience what their careers might look like after they graduate from Belmont. "When students move beyond campus and are working in professional situations, they will encounter things very similar to this project," Burks said. "They have had to learn music in a very short period of time, rehearse for singing with a full orchestra, and they are getting the chance to work with an artist who is the absolute best in our business."
Belmont musical theatre student and performance participant Christian Sandelin said the experience to perform with Chenoweth is exactly as he expected it to be — a once in a lifetime opportunity. "Her energy is infectious, her faith emanates from her and you can see the joy she gets from performing in her eyes," he said. "To be able to take the stage and interact with her, not as background singers, but as co-performers, was indescribable."
But the group's interactions with Chenoweth didn't stop with their time on stage. "After the encore, she came backstage with tears in her eyes and said that the magic our group had just created on stage is the reason she performs," Sandelin said.
Amongthe countless lessons he picked up from being on stage with a legend, Sandelin said the greatest takeaway was the way Chenoweth continues to promote her beliefs and ideals in her life, even as a Broadway star. "This experience showed how one can show their vulnerability and life through their performances. That is ultimately what makes a performance moving."