Each summer, hundreds of kids from across the country come to Nashville to further their musical talent during camps at Belmont. While on campus, these students spend countless hours practicing their instruments, spending time in their ensembles, learning from faculty experts and socializing with their fellow musicians during *limited* free time. This summer, Belmont hosted five musical camps — Summer Winds Band Camp, two Piano Camps, Strings Crossings Camp and Vocal Arts Intensive.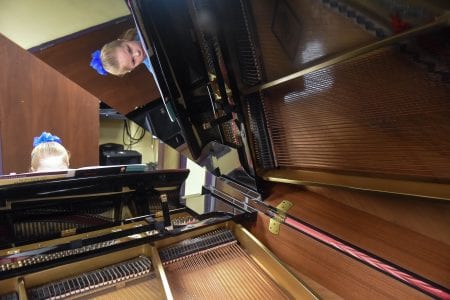 At Piano Camp, led by Associate Professor of Music Dr. Kristian Klefstad, there are two tracks for students to choose from — jazz and classical. Now in its 11th year, Piano Camp provides an intensive experience to highly motivated high-school age students who are passionate about their piano skills. Participants have a daily private lesson with faculty members, experience Belmont's practice facilities and performance spaces and live in on-campus residence halls. Many are even considering a collegiate music track for furthering their professional goals, so having time at Belmont's School of Music can be an essential step in their training.
Beyond these traditional experiences — Piano Camp also has unique traditions that campers look forward to including drumming, dancing, "scale-esthenics" and more. Beyond these crowd favorites, it's the connections campers make with each other that stand out as some of the most meaningful experiences at camp.
"Broadening young people's musical horizons is one of our main goals," Klefstad said. "It is a great joy to see young people from all over the country come and get to know one another while experiencing the fabulous hospitality of our campus. The mix of jazz and classical interests is something that these pianists can't get at most other similar events, and their strong work ethic and interest in artistic refinement fills me with optimism about the future of the fine arts and the world of piano."
For the more than 50 students from across the country who participated in this year's Summer Winds Band Camp, having the chance to come to Belmont's campus and spend time among other serious high school musicians is a significant step in their musical development. Since the program began 8 years ago, Associate Professor of Music & Camp Director Dr. Barry Kraus said the program is essential for these students — and many of them find their way back to Belmont when it's time for college, 32 students in the past few years to be exact.
"While many students enroll here as music majors, some enroll in other colleges on campus," Kraus said. "In 2013, percussionist Jacob Burris attended camp and enrolled in the Curb College the next year. He has since graduated and now works for Belmont as a film and video support specialist!"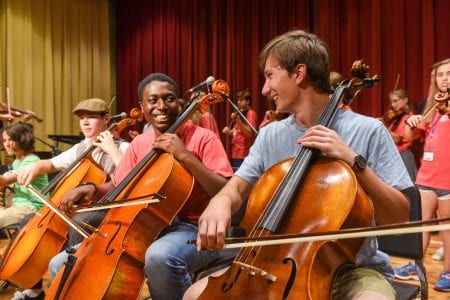 Because of its sheer size, campers spend most of their time on campus together, creating close and lasting friendships. And the opportunity to learn alongside such successful faculty is a significant selling point. "Our faculty members are magnificent—some of the most wonderful musicians and people you could meet. Their influence on young musicians is very impactful," Kraus said.
Since so many students come to camp from rural programs, the chance to play pieces created for large ensembles is a new experience. This provides them with an opportunity that accelerates their skills in a short period of time. "We also offer the experience to play jazz and learn to improvise," Kraus said. "Jazz education often falls short in public school programs, and we feel that this experience opens their eyes and ears to a more complete musical experience."
During Belmont Preparatory Piano Camp, a second piano experience reserved for students ages 6-12, experience within the instrument is varied between campers. Some have played the piano for several years, while others have never taken piano lessons before. Belmont has offered camps for high school students for years, but opportunities for younger kids who are just beginning their musical journeys had never been offered. "There's no need for young students to have to wait until they reach high school to take part in a great summer music camp," Belmont Academy and Preparatory Piano Camp Director Carrie Kimbrough said. "We feel that this is an important camp experience for aspiring, young pianists and may even serve as a stepping stone to one of our high school camps for these students in the future."
Throughout the week, campers are exposed to many different activities including opportunities to learn about music theory fundamentals, the history of the piano, instrument maintenance, practice tips, performance best practices, small group instruction and experiences within an ensemble, among other things. "Once camp is over, we hope that students will return to their regular lessons with a new sense of accomplishment, a deeper musical understanding and a renewed desire to dig into their music studies," Kimbrough said.
The summer's final camp, vocal arts intensive, brings nearly 100 campers from 26 states and one Canadian Province to Belmont's campus for a week. By the time they leave, students will have performed 8 large ensemble pieces, 12 small ensemble piece and 176 solos, in addition to receiving instruction in classical and commercial styles and theory courses. They also have the opportunity to focus on one style or experience a variety as their electives provide deeper instruction into factors that add to the music making process.
"One of the truly special things about the School of Music at Belmont is our celebration of diversity," said Assistant Professor of Choral Music Education and Camp Director Dr. Lesley Mann. "This is present in the vast and varied styles of music we teach and study, the diversity of thinking and learning about music and the diversity of pedagogy among our excellent faculty. This camp provides high school students with a snapshot of that amazing wealth of experiences."
Experiencing singing in large choirs, small ensembles and individually, campers take electives in chart writing, dance, artist development, conducting and Italian diction. They learn music theory and explore the endless possibility for a future that includes music — as a career, hobby or as a consumer.
"Our campers walk away knowing more about themselves as artists and creative thinkers, and that is super exciting," Mann said. "Yet, I think what truly stays with them are the friendships they form. This experience allows them to form close bonds very quickly, especially with music as a commonality. A parent of an incoming student let me know that her daughter has had a group text going for over 500 days with the friends she made at camp two years ago, and she hasn't taken her eyes off Belmont since then."
Beyond their expanded musical skills, Mann said it's the opportunity to think critically and with intentionality that truly leaves an impact on each camper. "For some of them, they're learning to read music for the first time. For others, they're taking advanced music theory and writing their own arrangements. No matter how much they know when they start the week, they will leave with a few more answers, but also a wealth of new questions they didn't even know they had. That hunger to learn more is what excites me the most."