University selected as repository for Hart's studio contents including sculptural works, artifacts, archives; multi-million-dollar art collection to be featured
Belmont University announced today the May 2019 opening of the Frederick Hart Collection, a permanent museum and repository of Hart's work. Bob Chase, Hart's publisher and president of The Frederick Hart Foundation, and Lindy Lain Hart, the artist's wife, are donating more than 250 works to Belmont, including completed sculptures, works in various stages of development, molds, plasters, sculpting tools, artifacts and archival material. The new museum will be the largest permanent collection of Hart's work available for public viewing.
In addition, a generous donation of Hart sculptures, including the full size Christ Rising, bronze, has been gifted to the Museum by passionate Hart patrons Lee and Pam Kennedy of Sarasota, Florida. Their timely gift adds to the importance of this undertaking.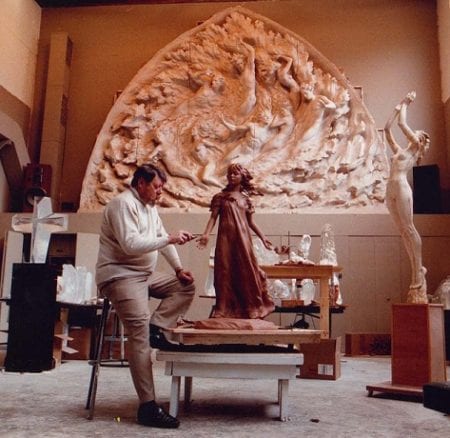 American master sculptor Frederick Hart (1943-1999) created works that forever changed the national landscape such as Washington National Cathedral's Creation Sculptures and Three Soldiers  bronze at the Vietnam Veterans Memorial. Hart was distinguished as the 2004 recipient of the National Medal of Arts along with other significant commissions, awards and achievements during his lifetime. His sculptural work was critically acclaimed as traditional in its adherence to the human figure, radical in its sensuality and innovative in its materials.
His gifts and influence are recognized worldwide. In 1997, Hart presented a unique casting of The Cross of the Millennium to Pope John Paul II in a private ceremony at the Vatican in Rome. When it was unveiled Pope John Paul II called this sculpture "a profound theological statement for our day." Author Tom Wolfe noted, "Rick is — and I do not say this lightly—America's greatest sculptor."
Belmont University President Dr. Bob Fisher said, "Frederick Hart was a pioneer in his time, and the legacy and impact of his art is immeasurable. His work invites us to awaken to the divine forces in our world while keeping us grounded in the goodness, truth and beauty found in everyday life. To have so much of his work available for viewing on this campus is an invaluable gift, one that I believe will prove inspirational for our students and the broader community for generations to come."
Belmont's relationship with Hart's work dates back nearly two decades. In 2002, Ex Nihilo, Working Model, cast marble (Washington National Cathedral's Creation Sculptures) was donated to Belmont by long-time University benefactor Barbara Massey Rogers. The work is installed on the south exterior wall of the University's Chapel, facing the lobby of the Ayers Academic Center.
Lindy Lain Hart, wife of the artist, commented, "In the spring of 2004, Belmont University showcased the art and legacy of my husband with the largest exhibition at that time entitled 'The Creative Spirit.' This bold exhibition forged a powerful and enduring alliance which set the stage for the 2019 opening of The Frederick Hart Studio and Museum at Belmont University. I am personally grateful that we can expand and deepen the singular and major force of the Frederick Hart legacy. I consider Belmont to be gifting a national treasure to the University and Nashville."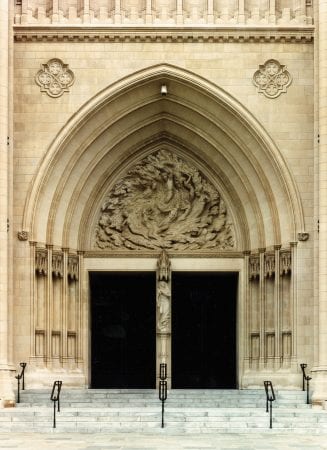 With architect ESa and R.C. Mathews Contractor, Belmont will begin renovations next month to recreate Hart's working studio and provide display space for the collection. The first floor of the campus's Lila D. Bunch Library—already home to the prestigious stringed-instrument collection, the Gallery of Iconic Guitars, and the Leu Art Gallery— has been selected as a synergistic location. These unique artistic endeavors will create a dynamic collective to further enhance the student learning experience, attract leading scholars to explore Hart's artistic contributions and further awareness of Belmont's pursuit of excellence in the arts.
Visitors to the Hart Museum will find they are surrounded by multiple mediums from mere sketches to completed works by Hart. Included will be an extensive presentation on Hart's innovative use of clear acrylic resin, the medium Hart pioneered to cast figurative forms which he described as "sculpting with light." This innovation led to a patent for the process to embed one clear acrylic sculpture within another. The museum will also focus on historical and biographical insights into Hart's life, and experiences that shaped his ideals and his critical positioning of the importance of the human figure in the visual arts. The Museum is, in a very tangible sense, creating a sacred space for the viewer.
Robert Chase, Hart's publisher and president of the Hart Foundation, added, "To have worked with [Frederick Hart], a man of such principle and purpose, who became my close friend and who created works of inestimable importance and value, was a great honor and privilege. Now, some years after his death, it seems urgent to offer historians and collectors of Frederick Hart's work a more intimate view of his life, work and philosophy than has yet been made public."
About the Frederick Hart Foundation
Formed in 2010, the Frederick Hart Foundation is a non-profit entity with the mission to preserve and perpetuate the ideals set forth by Frederick Hart regarding the ongoing purpose and mission of figurative art, its place within contemporary culture, its need for innovation through new technologies and materials, and its vital role in affirming our society's ideals of truth, beauty and goodness.
Additional Frederick Hart Biographical Material/Notable Quotes  
Selected Public and Private Works:
The Creation Sculptures, Washington National Cathedral, Washington, D.C. 1974-1982
Vietnam Veterans Memorial bronze statue Three Soldiers, Washington, D.C.  1984
The Cross of the Millennium presented to Pope John Paul II in a private ceremony at the Vatican, Rome, Italy. 1997
Songs of Grace installed in the Hermitage Museum, St. Petersburg, Russia. 2005
Processional Cross for Pope John Paul II's historic Mass on the Mall, Washington, D.C. 1979
James Earl Carter Presidential Statue, bronze, installed on the state capitol grounds, Atlanta, GA. 1994
Richard B. Russell Jr. Memorial Statue, white Italian marble installed in the rotunda of the Russell Senate Office Building, Washington, D.C. 1996
Senator Strom Thurmond, portrait bust of the President Pro Tem of the United States Senate created for United States Capitol Building, Washington, D.C. 1986
Daughters of Odessa, three-quarter life-size bronze sculpture installed by His Royal Highness, the Prince of Wales, in his private garden at Highgrove. 1998
Lord Mountbatten, bronze portrait placed by His Royal Highness, the Prince of Wales, in his private garden at Highgrove. 1997
The Herald, commissioned bronze installed at Newington-Cropsey Foundation Gallery and Cultural Studies Center, New York. 1994
Selected Honors and Awards
Posthumous recipient of the National Medal of Arts, presented by the President of the United States to the artist's wife Lindy Hart. 2004
Appointment to the United States Fine Arts commission by President Ronald Reagan. 1985
Honorary Doctor of Fine Art awarded by the University of South Carolina. 1993
Quadrennial Design Excellence Award for Three Soldiers from President Reagan. 1998
First annual Newington-Cropsey Foundation Award for Excellence in the Arts. 1998
Gold Line Congressional Tribute entered into The Congressional Record by Senator Strom Thurmond. 1999
Honorary Doctor of Fine Art from American University, Washington, D.C. bestowed posthumously. 1999
Board of Trustees, Brookgreen Gardens, one of the foremost American sculpture gardens. 1986
Selected Quotes:
National Medal of Arts citation
For his important body of work—including the Washington National Cathedral's Creation Sculptures and the Vietnam Veterans Memorial's Three Soldiers—which heralded a new age for contemporary public art.
Michael Novak, U.S. Ambassador, Educator and Author
The work of Frederick Hart is changing the world of art, vindicating the artist's strong belief that with the new century would come changing tides in the style, form and direction of the arts.
J Carter Brown, Director Emeritus National Gallery of Art
Frederick Hart's sheer virtuosity and talent put him in a category that few recent sculptors have attained….It takes years after an artist is gone to make a definitive judgment of their contributions.  But if anyone would make the cut, he should.
Although he has stated that innovation is not a priority for him, his pioneering use of Lucite© including a process that he has patented, is evidence that he is not an artist enslaved by the past.  I find the Lucite work of particular interest.
Bob Chase, President of Frederick Hart Foundation; Publisher of Frederick Hart works 
Hart believed that the cultural tides were changing and that the 21st century would bring a renaissance and an age of enlightenment. He determined to create sculptures that physically and spiritually reflected this and spoke to the transforming power of beauty. It is not surprise that at a time when the art world had largely spurned the human figure, Hart chose to champion it.
James Cooper, Founding Director of the Newington-Cropsey Cultural Studies Foundation; Publisher of American Arts Quarterly
At certain moments in history, one encounters a work of art that possesses the aesthetic, contextual, and moral strength to signal the start of a new era. The Creation Sculptures is such a work.  Within its forms lies the imagery and beauty to spark an American renaissance.
Donald Kuspit, Art Critic, Author
It is good to be inspired by art for a change, rather than to look ta art that betrays humanity… Hart's restoration of the human figure, in all its wholeness and vulnerability. ..is an important moment in the aesthetic and social history of art.
Frederick Hart, Sculptor
(Art) must be an enriching, ennobling and vital partner in the public pursuit of civilization. It should be a majestic presence in everyday life just as it was in the past.
My feeling is that the artist's greatest challenge is to make men see, as if for the first time. To alter and enrich man's perception and conception of the world and himself. How? By seeing its Truth as it has never been seen before. This is to me the essential purpose and value of art.