Senior Kyle Minardi originally thought his "From Here to Anywhere" plan would land him in divinity school in the future, but now the Nashville native believes his ministry will occur in a different field entirely: law.
"I had wanted to go to divinity school for a long time," said Minardi, "and I did a few internships at my home church. The more I got into that, the more I realized a church was not where I saw myself being called or where I anticipated my ministry happening."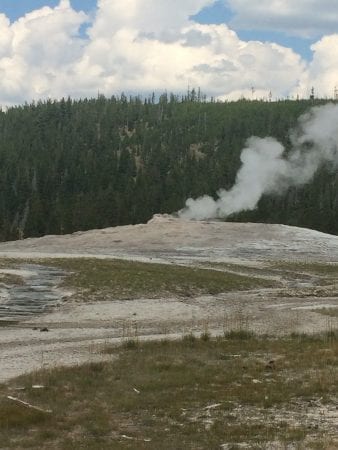 Originally a Church Leadership and Administration Major, Minardi became one of the first students last year to move to the College of Theology and Christian Ministry's new undergraduate program in Faith and Social Justice. The major prepares students to make an impact in a wide variety of fields that call for leadership with integrity and value, and it provides students with both academic and practical experience. "I came to to the Faith and Social Justice major because I was looking for a new sense of figuring out my faith vocation and what that all meant to me."
It was in Associate Professor of Religion Dr. Andy Watt's Christian Ethics class where Minardi first began to dream of a different path. A public defender spoke of her work doing criminal defense in the midst of an overburdened and frequently underfunded and understaffed system. Protecting individual rights within that context appealed to Minardi, who selected Advocacy & Activism as his focus track within his major (the other tracks offered are Policy & Development and Ministry & Missions).
In addition to the major's versatility and ability to work in a variety of different areas, the Faith and Social Justice major also requires three hours of a Religion Field Experience course, or externship, as well as six hours of praxis courses, which are classes taken at partner institutions while the student is fulfilling external study requirements. These courses complement the concentration track requirements and provide the student with broader access to various skill sets.
Watts had a connection with an advocacy center association with the Wind River Indian Reservation in central Wyoming so Minardi spent 10 weeks last summer working on behalf of the center while taking a criminal justice class at a nearby university.
"Culture shock doesn't begin to describe it. Driving the 1800 miles from Nashville to central Wyoming was quite an experience. The first thing that made an impression on me is that everything is far away from each other. The next closest town is an hour away. Everything is so spread out. I was driving on a highway for an hour and a half with no other traffic and no gas stations."
Beyond the culture shock and adjusting to the new landscape, Minardi settled in quickly to his role assisting with organizing a conference on economic development for the reservation. Wind River is home to both Arapaho and Shoshone tribes, tribes that are historic rivals with a history of not getting along, according to Minardi, which complicates efforts and can slow down progress.
Prior to contributing to the conference's logistics, Minardi spent time in the community to help gauge which topics would be of interest. While income levels are low and many families struggle to pay utility and grocery bills, Minardi discovered that conversations centered on opportunities rather than dwelling on what was lacking within the reservation. "I was really focused on listening, trying to hear from community members about what they felt were the issues in the community. Originally, the conference was going to focus on poverty, but after talking with a number of people, we heard consistently that they don't think of themselves as poor. That insight helped reframe the discussion and pushed the conference in a different direction."
Rather than focusing on poverty, speakers for the conference discussed tribal sovereignty in terms of water, land and resources as well as offered educational talks on tax codes, business growth, job training and workforce services. "The point was to get people to start thinking about, 'How can we start making a difference in our community?' After the conference, the community started an economic development task force that would follow up on what was learned."
For Minardi, the entire experience opened his mind to issues related to Native American law and treaties as well as the challenges around protecting these communities and their rights. "The Native American specific issues became much more important to me," Minardi explained, noting how the American Indian Religious Freedom Act of 1978 gave these tribes civil rights that he had previously taken for granted. "Their ability to practice their own religion is a relatively new experience. Here in the buckle of the 'Bible belt,' we see religious expression everywhere, but these tribes have only had that right for about 40 years."
In addition to his work, Minardi was also privileged to experience several Native American ceremonies, including a pow wow that drew tribes from several states and the sacred annual sun dance ceremony. The impact of the summer is clearly still being felt.
"To be able to work out there and feel like I was doing my part to help that community meet their own needs and address problems was incredibly rewarding," Minardi said. "One of the biggest takeaways I get from this is that it's really important to pay attention to the world around you. As vague as that sounds, there's a whole group of people that I didn't realize had such needs that weren't being met. As a middle class white person living in Nashville, it was important for me to be aware of the greater systems that live beyond my own front door."