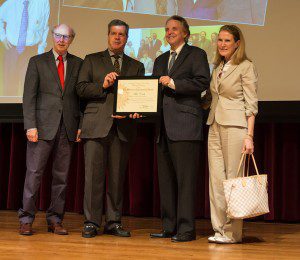 Longtime Belmont supporter and trustee emeritus Mike Curb was honored by the Metro Historical Commission with the highest honor, The Achievement Award, recognizing his commitment to preservation, education and advocacy of Nashville history.
Mayor Karl Dean presented the award to Curb during the Metro Nashville Historical Commission's 40th Annual Preservation Awards at the Nashville Downtown Public Library on May 19. Curb was chosen because of his work in preserving Historic RCA Studio B, the Quonset Hut, the RCA Building, RCA Studio A and Music Row.
In his introduction of Curb, Commission member and Belmont Professor of Music Business Don Cusic stated that "Nashville is known as Music City U.S.A, Music Row is the heart of Music City, and Mike Curb is the heart of Music Row."
In addition to his strong influence in the greater Nashville community, Curb's contributions to Belmont have also led the University to name both the Curb College of Entertainment and Music Business and the Curb Event Center in his honor.