Belmont welcomed contemporary gospel singer-songwriter Michael W. Smith as a speaker at a convocation event on Wednesday, August 31 in the Massey Performing Arts Center. The three-time Grammy Award winner spoke on the growth of his Christian faith through hardship and performed several worship songs for students and faculty members. He also played his original song titled "Friends."
During his talk, Smith discussed his relationship with his father and how it helped him understand God's presence in a more concrete way. His father passed away last November after a long battle with Dementia. Smith recalled all of the fond memories he has of his father and spoke about he admired him. He connected their relationship  to his relationship with God and spoke about the similarities between the two. "You read all these Scriptures about the Father part of God… And my dad showed me a little bit of what God's like," said Smith.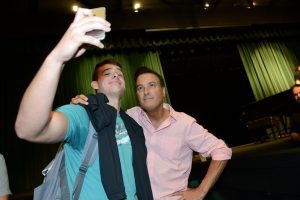 He also aimed to assure those who may not have similar relationships that God is able to fill in the gaps that we most need filled. "If you didn't have a good dad, God could father you. If you didn't have a good mom, God could mother you," Smith said.
After telling stories of where his career as a musician has led him, Smith also expressed the gratitude he has for being able to make music his career. "To be doing what you're doing for over 30 years and still feel like the best is yet to come is incredible," said Smith.
Smith described Belmont as being a great place with great faculty and students. He was introduced by new University Minister Heather Daugherty.