A convocation Tuesday sponsored by Belmont's Black Student Association sought to educate the community on the phenomenon known as "Black Twitter," which can be described as the online realm of opportunity for the black community to tell their stories.
The presentation was led by Dr. Meredith Clark, assistant professor in the Mayborn School of Journalism at the University of North Texas,who last August defended her doctoral dissertation on "To Tweet Our Own Cause: A Mixed-Methods Analysis of the Online Phenomenon Known As Black Twitter." With research interests in race in media, as well as digital and social media, she opened her talk with the recent anecdote of telling a woman on a plane that she had her PhD in Twitter. A discussion followed about the opportunity to take on this community and be a voice in the digital world.
Clark explained the long process of starting her dissertation on Black Twitter. An ethnography class led her to realize that she found community by logging onto her phone at night, listening to what people were talking about and seeing which hashtags were trending. "We are a community that has a story to tell. When I realized I wanted to pursue higher education, I always went back to the same truth: it's my truth, and I speak it in my every work. My truth is that everyone has a story to tell," she said.
Clark quoted others that have led this revolution, saying, "too long have others spoken for us; we wish to speak our own. They sought to give a voice to the black community, and their charge was to capture and portray an accurate narrative of the black experience."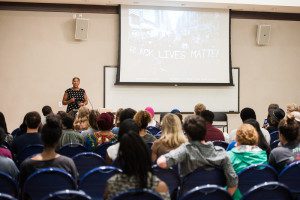 Clark was able to recruit 36 volunteers, via her own Twitter account, to participate in her dissertation. Through interviews, she noticed three major phenomena of Twitter. The first is personal communities, or the idea that people join a community because others they know are already there. The second is thematic nodes, or the places one will return to repeatedly because of a common interest. Television, for example, creates communities centered around thematic nodes, like Clark's favorite "Shondaland." The third is the place these two phenomena intersect over an event or the news – a process or community like Black Twitter. #Blacklivesmatter, #solidarityisforwhitewomen or even #paulasbestdishes are results of this kind of community coming together as one viral voice to protest injustices in the real world.
Before the question and answer portion, Clark ended by encouraging the audience to think about the communities they are a part of and asking who will represent those communities. "Stories will be told by (a) the traditional media, (b) niche media, which will focus on reactions and ignore history or (c) by you, individuals who can work at the intersections of media, race and power," she said. "You are the best chance at standing against the unchecked narratives. We are the people formerly known as the audience, and we are now the creators. We can change the narrative to change the moments in history."
Clark received her PhD from the University of North Carolina at Chapel Hill School of Journalism and Mass Communication. She tweets @meredithclark.