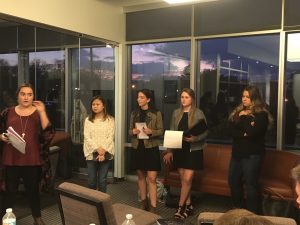 Caroline Melby, career development specialist for the Mike Curb College of Entertainment and Music Business, recently hosted a Roundtable event for students at FlyteVu, a full-service marketing agency located in the Gulch. All seven employees, including the organization's two founding partners, were in attendance and spent time with the student participants.
Held in FlyteVu's conference room, the event included several case studies where students watched the work in action as brands were matched to artists and marketing plans were implemented. Following the presentation and Q&A, the team assigned a sample project to the students where they were broken up into two groups and tasked with creating a marketing plan that involved bringing Cracker Barrel to the CMAs.
After a 15-minute working session, both teams presented their plans to the group which included unique drawings and a question and answer session.