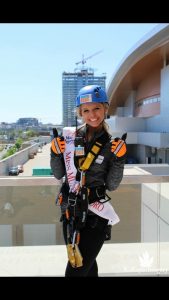 City Auto's Over The Edge Nashville held a rappelling event on April 15 on the side of the 269-foot Omni Nashville Hotel to support Big Brothers Big Sisters of Middle Tennessee. Rappellers had to fundraise at least $1,000 to participate, and all money raised directly benefited the Big Brothers organization. President of Bigs@Belmont Mary Allyson McGinnis raised her share of the money to scale the building. The event collectively raised $128,486 for Big Brothers Big Sisters of Middle Tennessee.
Director of the Office of Career and Professional Development Patricia Jacobs expressed how proud she was of McGinnis for conquering her fear. "Mary Allyson was fearful about going 'over the edge,' but she said she thinks about the fears of children and decided she could do it for the children," she said.
McGinnis said her "littles" were her motivation, as they face the fears of homelessness, death and divorce each day. "Taking the first step off the edge was the hardest part, but once I got the hang of it, it was more fun.  It was rewarding knowing that the money I raised will go to a child facing adversity to be matched with a 'Big,'" she said. "As a 'Big' myself, I've seen firsthand  how mentoring the lives of young children positively impact them for the better forever.  I  want to see every child be afforded this opportunity to set them up for a successful future."
McGinnis continued about her love for the nonprofit. "My passion for Big Brothers Big Sisters is so great that I have made it my community service platform, Start Something BIG, for Miss Tennessee in which I will be competing in June as Miss Murfreesboro 2016."
Big Brothers Big Sisters provides professionally supported, one-to-one mentoring relationships to at-risk youth in Nashville and the surrounding counties. It is a volunteer and donor driven organization that matches children in need with a positive adult role model. Funding is used to conduct background checks on volunteers to ensure child safety, and provide ongoing support for children, families and volunteers to build and sustain long-lasting relationships.The nonprofit partnered with City Auto to bring Over the Edge, a special events company that provides signature fundraising events for nonprofits, to Nashville.
City Auto Marketing Manager Lynsey Freeman said this event is an amazing way to grab attention for the important work Big Brothers Big Sisters is doing. "Mentorship makes such a difference in the lives of our youth, no matter what their background is. And an extreme event like rappelling is a unique way to connect with the public, young professionals and other leaders to engage and educate them about the opportunity to make a positive impact in a child's life," she said. "It takes a lot more energy and nerve to scale a wall – it's easy to be friend."
To date, Over the Edge has helped raise more than $45 Million through 500 events.