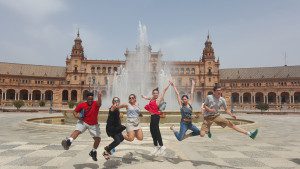 At the end of the spring semester, most students long for a period of relaxation, adventure and, quite frankly, a break from hours spent at the library. But rather than immediately tackling a new job or lounging by the pool, 500 Belmont students opted to study abroad this summer, many of them choosing to travel during the University's Maymester session. The list of trips includes diverse sites like Germany, Hawaii, Spain, Brazil, Israel, Greece, Rome, China, Argentina, Costa Rica and many more.
Of particular note was "Belmont in London and Paris," which allowed students to embark on an interdisciplinary program to discover the two major cosmopolitan capitals of Europe, through the lenses of food, film, gardens and math. Led by Dr. Mimi Barnard, Dr. Judy Bullington, Dr. Kim Daus, Will Akers and Dr. Michelle Guinn, excursions included walking tours of both cities, cooking lessons, museum visits and day trips to Oxford, Chatsworth (Jane Austen's "Pemberley") and Blenheim Palace in England and Versailles, and Chantilly and Giverny in France. Motion pictures major Grayson Propst created this documentary that details more about how the travel experience impacted the participants.
Logan Todd, a senior commercial percussion major, commented that his first study abroad experience, in London, was also his first time traveling outside the continental U.S. "What I took away from my study abroad program in London that I will never forget is the vastness of history in the English culture. It is everywhere. At any given time I could be standing where queens were beheaded or where a mother covered the head of her child as they huddled together in a tube station during the bombing of London. I prayed in a 700-year-old Norman chapel. I saw Shakespeare's grave. History came to life for me in London, and I have never had a greater appreciation for feeling so small."
Director of Study Abroad Shelley Jewell said, "As part of our institutional mission, Belmont is committed to providing students with ways to engage and transform the world. Study abroad provides a pathway to make this a reality. Our students have embraced these opportunities and are given the necessary support and encouragement from our faculty and staff in order to participate. Having more than 60 faculty involved in this process has allowed for Belmont to offer a breadth of programs that span academic majors and the globe to give students the opportunity to explore the world in an academically meaningful way."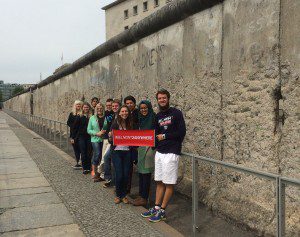 Jewell also emphasized the impact studying abroad can have in inspiring students to increase intellectual maturity, improve self-confidence and increase adaptability, noting that it teaches students to appreciate diversity and recognize and dismiss cultural stereotypes. "We live in an increasingly interconnected world that demands students have awareness not only of our nation but of other cultures around the world in order to be successful. Study abroad is a truly transformative experience that pushes students outside of their comfort zones. It is our job as higher education professionals to prepare students for our global marketplace and study abroad is a crucial piece of this preparation."
Other Maymester study abroad opportunities included students studying enthnobotany and biodiversity in Costa Rica, exposing science and non-science majors to biology and environmental science concepts in one of the world's most diverse ecological settings. Another trip, "Belmont in Germany," explored political institutions, popular music and the role of chemistry in the industrial development of the nation's history, while "Belmont in the Biblical World" took students on a pilgrimage to holy sites in Israel, Turkey and Greece to examine the varied roles religions have played in the social, economic, political, and religious climate of the region.
To view other Maymester and summer 2015 sites and programs, visit the Study Abroad website.