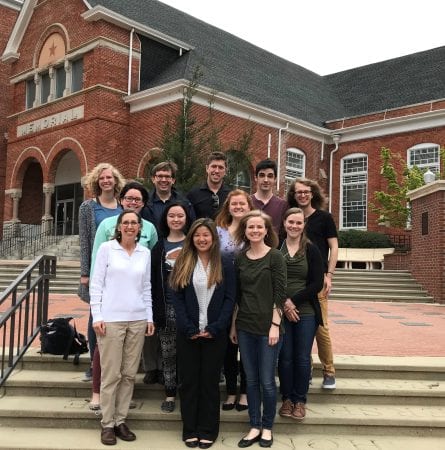 Students and faculty members of the Mathematics and Computer Science Department attended the Mathematical Association of America (MAA) Southeastern Section's annual meeting at Clemson University March 22-24
Belmont's Math Jeopardy Team was composed of Kailee Gerzema, Katie Kruzan, Alyssa Schaub and Jordan Sawdy. The team had a strong showing early in the Jeopardy tournament before being defeated by Western Carolina University.
Mathematics majors Davis Deaton and Sawdy gave two joint presentations on "Methods for Locating and Manipulating the Vertical Asymptotes of Solutions to First Order ODEs" and "A Surprising Connection between Cycle Types and the Exponential Defined Differential Equation."  Both presentations were based on work done with Dr. Danny Biles, Belmont mathematics professor.
Gerzema was given the honor of top presentation in her section and was awarded $100. Her presentation titled "Wagering Strategies for Variations of Final Jeopardy" is based on her research with Dr. Ryan Fox, Belmont mathematics professor. Also presenting research with Fox were Ally Fuchs and Cearra Logan who presented a poster titled "Risk it For the Biscuit: How to Play the Final question to 'Win' Jeopardy in One of Two Games."
Mathematics faculty members Drs. Robin Lovgren, Catherine Starnes, Ryan Fox, Brad Schleben and Sarah Ann Fleming also attended the conference. Schleben gave two presentations on "Using Mathematics to Enrich Cross-Cultural Experiences" and "Assisted Oral Exams and Student Perceptions of Deep Learning and Confidence." Lovgren presented on "Guiding Students to Solve a Business Problem in an Independent Study Course." Fleming organized and presented in the "Graduate Student Career Development Workshop."