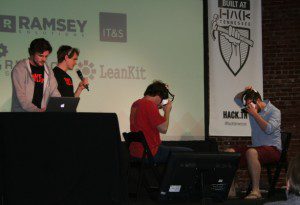 The Hack Tennessee event, recently held in Nashville, gathers software developers, visual designers and product managers from across the country to invent new web platforms, mobile apps and electronic gadgets over 48 uninterrupted hours. One of the largest events of its kind, hundreds of products have emerged from Hack Tennessee's 1,000+ attendees, making it the southeast's premier destination for the creative class to connect, grow and contribute. Their 'community of makers' works tirelessly with primary, secondary and university educators to support the exposure of Tennessee students to STEM careers through events and on-campus mentoring.
Dr. Glenn Acree, professor of mathematics and computer science, has been working with Hack Tennessee Co-Founders Brendan Wovchko and Avery Fisher and Jon Staples of Code for Nashville to increase the number of undergraduate  participants from area colleges and universities to engage with the local developer community.
Several Belmont students and alumni were involved in the event. Max Shenfield (mathematics, 2014) worked on a team with Kevin Huber (mathematics, 2015) and three others to make a virtual reality tower defense game. Tron themed, the game allows players to battle in real time and destroy opposing player's minions. Geoff Gross (computer science, 2015) played a big role in Brigade Pulse, a real time visualization tool of Code for America brigade activity across the country.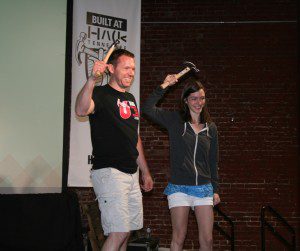 Caleb Gregory (mathematics, 2013) also joined the participants. Gregory said, "It was great seeing the possibilities for what I could be working on and gathering more information about. I was excited to see how easy collaboration and teamwork in this community are, and how quickly bonds were formed among teammates."
Marlee Stevenson (computer science and AET, 2015) worked on a team project called Cycledelic, a kaleidoscopic and psychedelic unicycle riding game made for the Oculus Rift VR platform. "It was a huge learning process this time around. I joined a project in which I knew nothing and I came away from the weekend with a new skill and new desire to learn. Every person at the Hackathon wants to learn something new and teach what they know. I felt that I was able to do both of these things this weekend." Stevenson's team won the Hacker's Choice Award, an award voted on by all hackathon participants after presentations.  Each team member received an engraved hammer as a trophy.