"Savannah, I am already taking care of you," said Idda, a Form 1 student at the Women's Institute for Secondary Education and Research (WISER) in Kenya. Savannah Johnson, a recent Belmont graduate and current Lumos Traveler, has been living with Idda and WISER secondary-school girls since June for her Lumos Travel Award project, a grant given to Belmont students or recent graduates who are interested in embarking on a self-designed, international 'working adventure.'
This summer, the Lumos Travel Award celebrated its 5th anniversary, and with six travelers going all over the world, the program has funded experiences for 32 participants in more than 15 countries. Designed by the students, Lumos empowers travelers to explore, engage and immerse themselves in local communities to deepen their understanding of an issue, project or idea that impassions them. Seeking to define travelers' world views and engage them as global citizens, the grant supports projects that allow participants to travel for a minimum of eight weeks.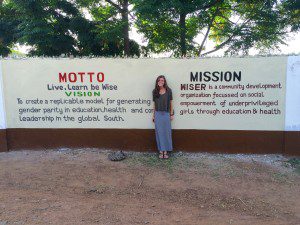 Since her arrival in Kenya, Johnson has been studying the psychosocial support provided by WISER staff and will end with a research project comparing outcomes between students at local schools. Johnson said she first learned about Lumos when she was a freshman and immediately knew the experience was for her. Committed to spending extended time working at an all-girls school in Africa, Johnson was drawn to WISER's model for education and created her proposal. On June 16, Johnson arrived in Muhuru Bay – and so began her 5 months as a Lumos Traveler.
Belmont alumna and Board of Trust Member Cynthia Leu created the Travel Award to provide a working gap year experience for Belmont students and recent graduates. After spending several years abroad herself, Leu said she was interested in facilitating a meaningful opportunity for students. By developing individualized travel proposals that directly impact a global community, students are able to learn through immersion, rather than simply by a book.
"It is profound to say 'yes' to someone's dream, and then watch them go out and have that experience. They change and grow, struggle and learn, and come to realize that sometimes the big lessons come in small moments," Leu said. "Often schooling is mostly focused on theoretical learning. A Lumos grant allows for a 'working adventure' – which enables learning through experience in an international location."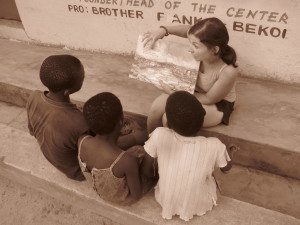 Lumos's first traveler, Abby Selden, spent three months working in Ghana, at the
Mt. Zion Orphanage School, because it combined her interest in Africa with her love of working with children. While there, Selden organized summer school and was asked to teach English, natural and computer science.  For Selden, the opportunity to live and work in Ghana was life-changing – particularly around building global perspective and a deep cultural appreciation.
"Living in Ghana for three months gave me the biggest dose of perspective of my life," Selden said. "I realized that becoming a 'global citizen' doesn't mean realizing your own importance, it means discovering your relative unimportance. I am just one person, from one of nearly 200 countries and countless cultures. Five years later, I've been to 10 more countries, learned French and now live in England. I'm not confident that my life would have changed so drastically if not for that first experience in Ghana."
No matter the country or project design, Lumos travelers often point to the relationships they formed while traveling as the most meaningful aspect of their time abroad. For Johnson, her time in Kenya is still developing, but she already notes the relational part of her time at WISER as the most formative. "I think building relationships often brings the most meaning in life – no matter where you are. Getting to know the students and faculty at WISER has been so important to me. Over the course of my stay, I am excited to see how these relationships develop and grow."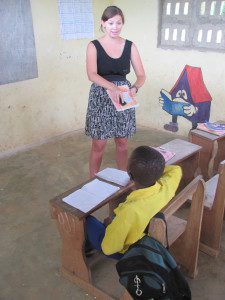 Selden would agree. Though her fondest memories of Ghana include climbing waterfalls in the Volta region, watching a soccer match between Ghana and Sudan's national teams and visiting historical sites in Cape Coast, building relationships with her students and fellow volunteers tops out her list.
On the blog where Selden updated her family and friends back home while traveling, a requirement of receiving Lumos funds, she described her days at Mt. Zion and the lessons she learned. A few weeks into her trip, Selden's relationships were strengthening and the children she worked with became more accustomed and welcoming to her presence.
"The kids have now started saying, 'You are invited' when I sit with them – which essentially means that they welcome me to their table and invite me to try their food. I have had so many amazing experiences in Ghana, but somehow I am more content sitting with the kids while they eat everyday than almost anything else I have experienced while here," Selden said. "I love knowing that I am invited to their table and that they genuinely enjoy me sitting with them."
For more information on Lumos awards and the application process, visit the website.