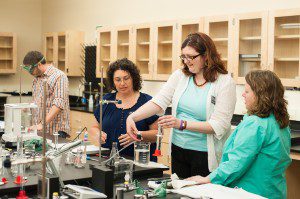 Area middle and high school science and chemistry teachers learned "it's easy being green" throughout Belmont's Department of Chemistry and Physics's "It's Easy Being Green: Budget-Friendly, Safety-Conscious Chemistry Labs for the Science Classroom of Today" workshops, held three times this summer. Using neutralization reactions, 41 attendees performed green labs, highlighting preparation, safety and chemical disposal, to take back to their classrooms across the state.
The first of what event organizer and Assistant Professor of Chemistry Education Dr. Danielle Garrett hopes will become an annual event, the workshop allowed science teachers to participate in creative, budget-friendly lab experiences among peers, providing an additional resource once school begins again. "This workshop series provides classroom teachers with connections to the scientific community and a support network of Belmont faculty who are willing to answer questions and help work to develop programs to address the needs of teachers in their science classrooms," Garrett said.
With traditional scientific lab resources requiring higher budgets and complicated waste disposal processes, green lab experiences utilize chemicals that are more budget-friendly, often  found in local stores, and don't require costly disposal services. Green style labs can be easily adapted to any environment, curriculum level or facility. "Programs like this one help teachers incorporate functional, meaningful, environmentally friendly and low-budget labs into their classrooms," Garrett said.
Belmont alumna, workshop participant and high school chemistry teacher Katie Parks said her time at the workshop was a fantastic opportunity for professional development that can be taken back to her classroom. "Chemistry is best taught via hands-on experiences," Parks said. "As a teacher, any time I can expand my lab offerings I jump at the opportunity. I love to learn new ways to incorporate hands-on learning into my classroom, and learning from other educators is invaluable."