On May 10, 38 4th grade students from Donelson Christian Academy (DCA) came to campus for a chemistry field trip to Belmont University. This field trip – focusing on acids, bases and neutralization reactions – is part of Dr. Danielle Garrett's, associate professor of chemistry education, continuing work with the American Chemical Society (ACS) Science Coaches program.  
For the past 8 years, Garrett has partnered with 4th grade DCA teacher Ellen Deathridge, engaging in a variety of interactive chemistry activities, including hands-on science lessons, hosting chemistry field trips and more recently developing virtual video science lessons and participating in Q&A Zoom sessions with the 4th grade students.  
At this event, students engaged in discussions about chemical reactions, created their own pH indicator color scale using red cabbage indicator and a series of 9 pH testing solutions, made predictions and tested the pH of common household products, and explored the neutralization reaction between vinegar and antacid tablets – looking at the relationship between balloon circumference and increasing the number of antacid tablets used in the reaction. To cap off the event, students got to visit the general chemistry lab to experience a flame test demonstration.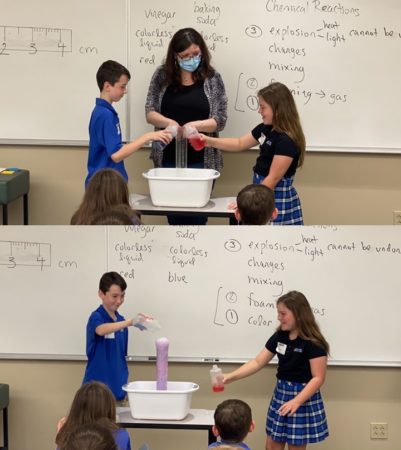 4th grade teachers Ellen Deathridge, Tabitha Ingram and Eric Barbour were there to help Garrett. 
"I love these opportunities to share my excitement and experience with chemistry with younger students. It is amazing to see them get them so excited not only about science, but about learning!" Garrett said. "Science is still so new and fascinating to them. Their enthusiasm, positive engagement and thoughtful questions make me love what I do even more." 
Garrett and Deathridge are already thinking towards next year. "Mrs. Deathridge is joy to work with.  She's a wonderful teacher and an amazing science teacher. I've been truly blessed to be able to continue to work with her through this program, and I can't wait to start planning for next year!"