Julia Couch is a 2016 Belmont University alumna and content writer for the University Marketing and Communications team.
While many college students use spring break to vacation and rest, 22 Belmont students participated in Belmont Immersion trips across the country to the Gulf Coast, Appalachia and Washington D.C. Sponsored by University Ministries, Immersions are week-long service trips, offering students the chance to be immersed in local culture and grow in understanding of their new community's cares and concerns. Students get a front-row seat to the work God is doing through local congregations and ministries, joining these organizations in awareness and service.
As a Belmont staffer, I don't often have the chance to spend meaningful time with students. Craving that opportunity—and selfishly, a change of scenery—I applied to be a staff leader for an upcoming Immersion trip. Our students continue to amaze me, and I knew spending a week with them would leave me with new friendships and sweet memories. The Gulf Coast sounded like the perfect place to spend a week serving with college students, maybe even a bit warmer than the "second winter" Nashville was in.
An unexpected bitterly cold snow fell over the city a few hours before our Saturday morning meeting time. I was already awake when my 4 a.m. alarm rang, nervous I would oversleep. The snow caused a few hiccups in our plans to shuttle students to the airport, but we made it… just in time to join a sea of humanity, all traveling for the spring break holiday.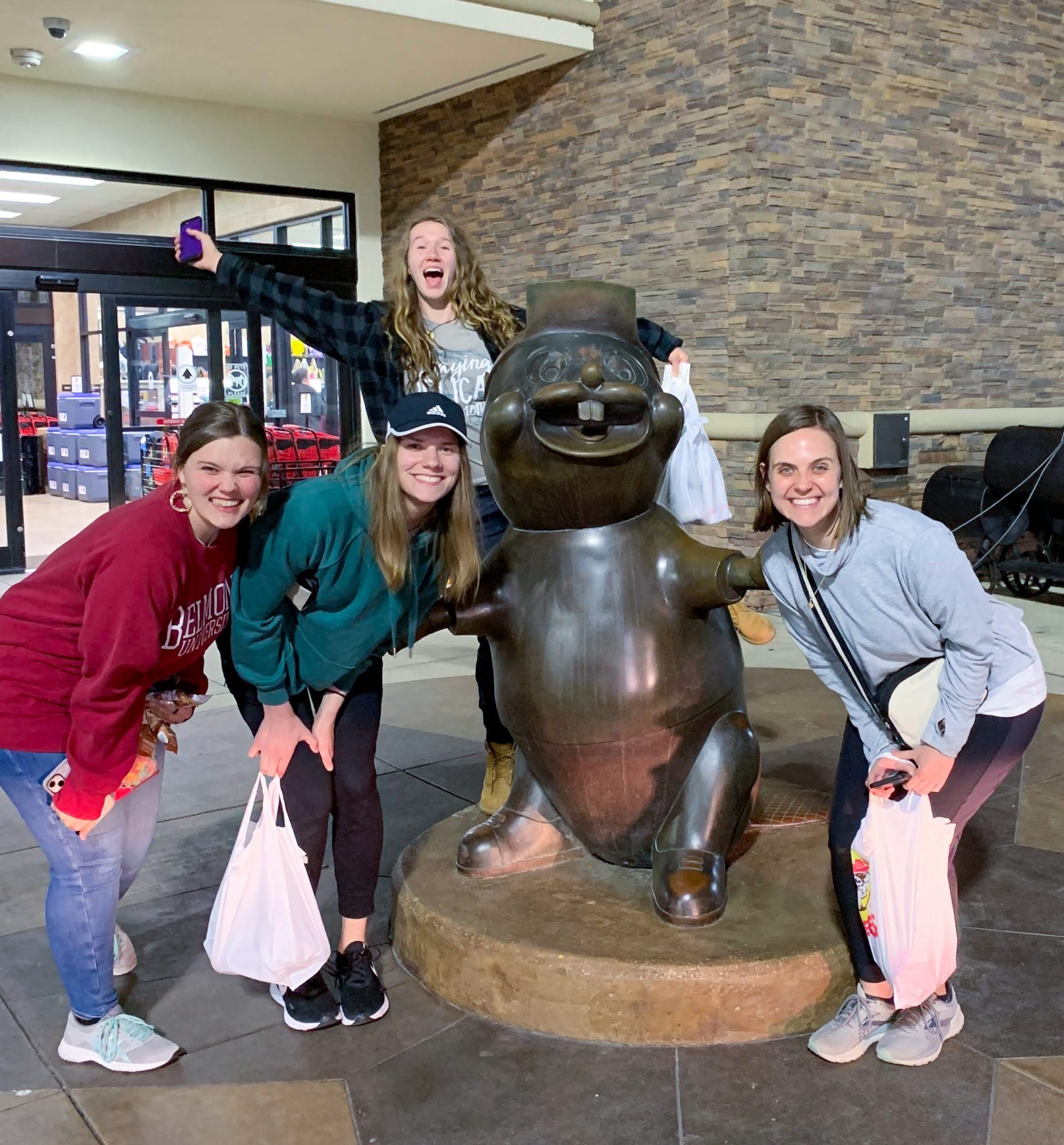 After landing in Houston, we loaded up in our rental cars and headed East towards Lake Charles, LA. No road trip through Texas is complete without a stop at the state's most loved truck stop "Buc-ee's." We were overwhelmed by ceiling-high racks of jerky, fudge and beaver nuggets, and fueled up for the rest of our trip. Dare I say it was a major highlight.
We arrived at Uskichitto Retreat Center (pronounced "Whiskey Chitto") in Southwest Louisiana late Saturday night, exhausted from a long travel day. The camp served as home base for us and two other groups, also working on projects in the area.
To officially kick off our Immersion week, we traveled to DeQuincy—a town of 3,200 people—where the team visited and worshiped with our mission partner, Evergreen Missionary Baptist Church (EMBC). EMBC has a storied history in DeQuincy. Built in 1911, it was the first Black church in town and served as the first school for Black children in the community. Despite a fire and various disasters to hit the building, the church has consistently rebuilt and remains a steadfast piece of DeQuincy. Storms tear through the region each year, but the 2020 hurricane season was particularly devastating. On top of the effects of the COVID-19 pandemic, 12 hurricanes (five of those major) ripped through the area in 2020. Most notably, Hurricanes Laura and Delta left the region in dire need of aid. Nearly two years later, blue tarps still serve as makeshift roofs for many residents who can't afford repairs. Through it all, EMBC continues to be a beacon of light in the community.
The congregation has completed building repairs and sanctuary renovations from the 2020 storms over the last two years. Because of the pandemic, the congregation held services in the church's parking lot for nearly two years and has only been back inside for a few weeks.
When we learned about our projects for the week, I could tell there was a touch of disappointment in the air. While teams at other sites would be using power tools, demo-ing spaces and mudding and taping drywall, our all-female team was tasked with organizing the church. The disappointment didn't last long, and we quickly learned we had our work cut out for us.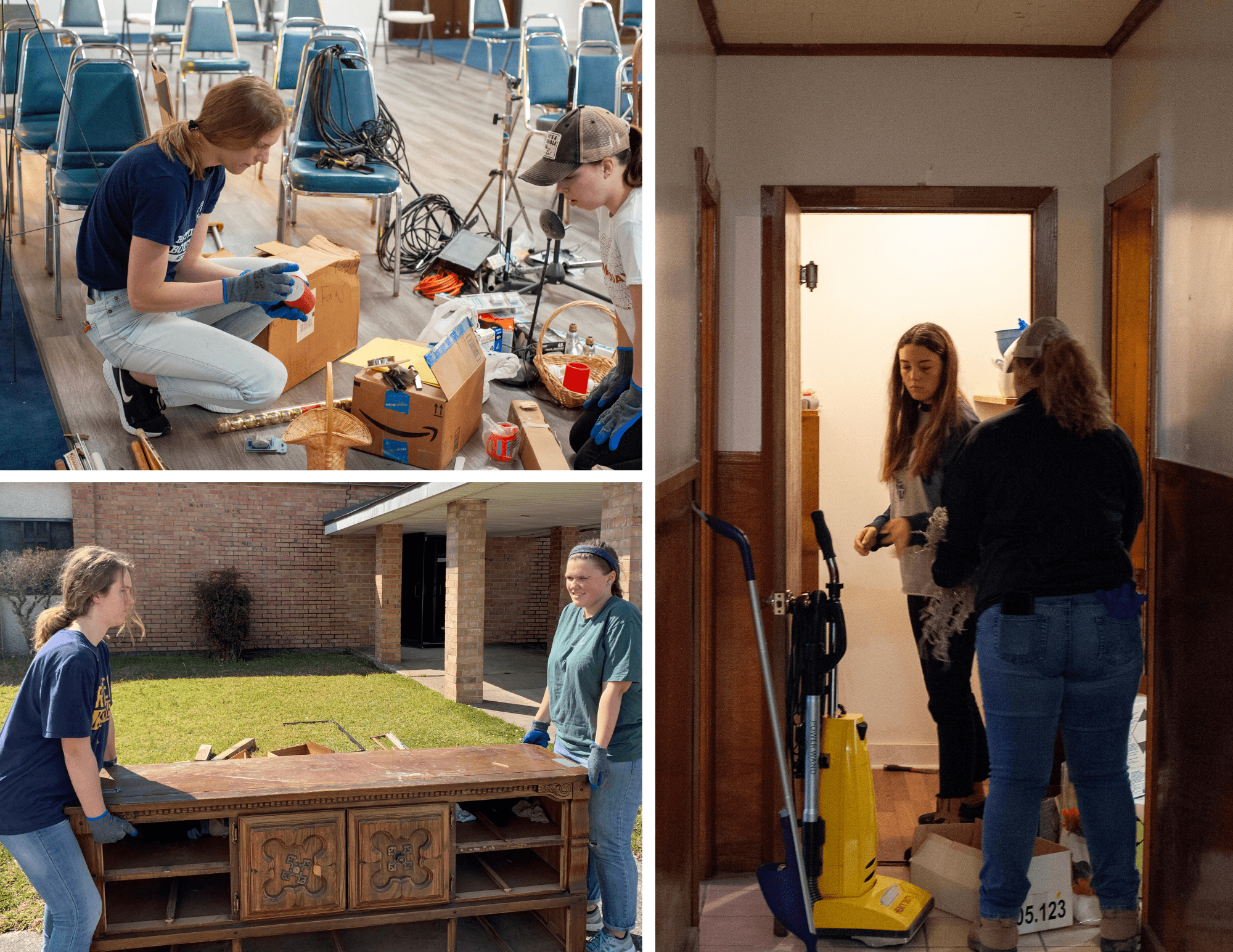 We cleaned, purged and organized rooms throughout the church along with the garage and shed on the property. Files, trinkets and other items were lost in bins no one had touched in years. The team worked efficiently and finished projects well ahead of schedule. As a staff leader, I was proud of our students and their drive to complete projects. It wasn't glamorous work, but each student responded cheerfully and was ready to jump in where needed.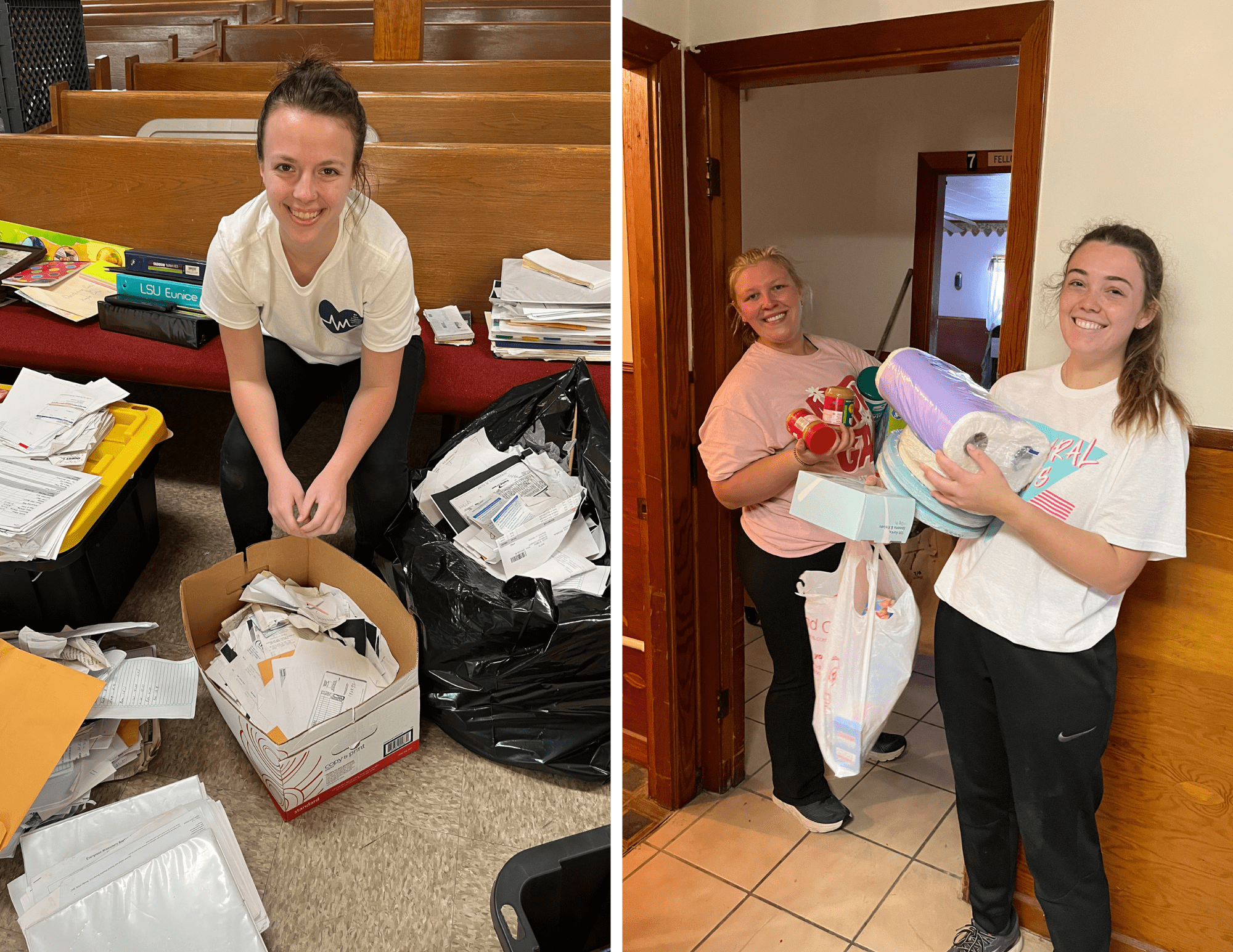 My favorite project was working on the DeQuincy Tool Lending Library. A shipping container filled with brand new tools sat in the corner of the church parking lot. We removed every tool from inside, inventoried and numbered each item, created a check-out system, then put the tools back inside for an easy-to-use system. When the next storm inevitably hits the region, the Tool Library will be stocked, ready to aid in clean-up efforts for residents with limited resources.
Mid-week, I had a revelation. It felt like God giving me a little nudge, reminding me of Matthew 25: whatever you did for the least of these, you did for me. Was organizing the church as fun as other building projects? Maybe not. But even still, God was in the midst of it. Our team was there behind the scenes, making it easier for the church to continue serving the community. As an older congregation, lifting countless heavy boxes and taking dozens of trips to wheel trash to the curb simply wasn't feasible. God always talks to us when we ask, and I'm grateful for that tangible reminder.
Something beautiful about Belmont Immersion trips—differing from the traditional "short term mission trip"—is the opportunity to be immersed in local community and culture. EMBC's Pastor James Harris made it his mission to share the town's full history with our team. We loaded up in the church bus one afternoon for a detailed tour of DeQuincy, making sure to stop at the Railroad Museum. Once a booming industry for the town, Pastor Harris shared the impact the railroad had on the local economy–it once employed his father. He also took time to share about race relations and his experience growing up in the deep south. I'm especially grateful for these moments Pastor Harris took to graciously share his story with students ready to receive.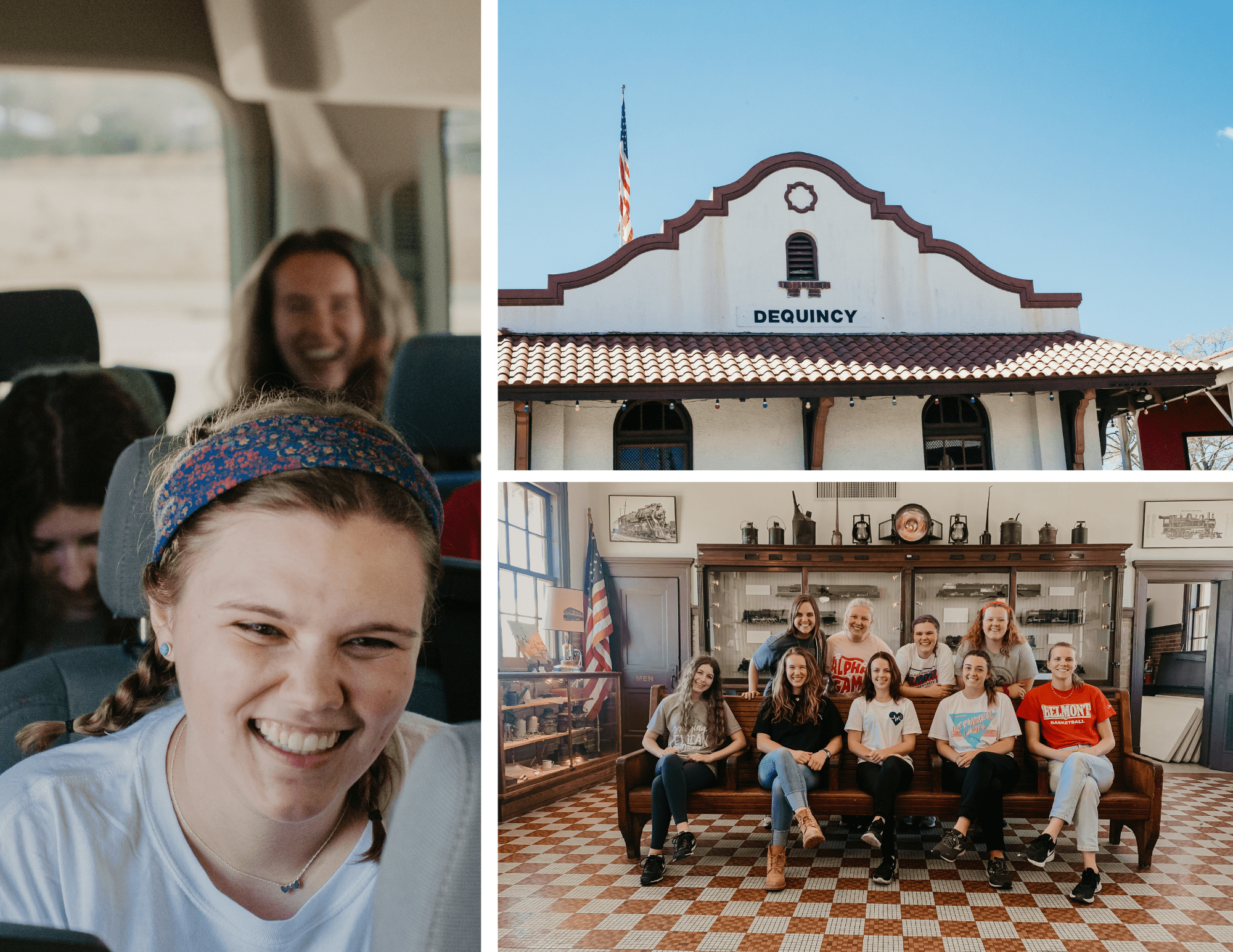 To round out the week, Pastor Harris' wife Mrs. Linda whipped up a pot of gumbo on our last day. When I asked her for the recipe, she laughed and said "Honey, there's no recipe! Just a little of this, a little of that."
Before heading back to Nashville, we had a traditional Louisiana crawfish boil—a new experience for most of our group—and took a swamp tour led by Captain Eli, a biologist from East Texas. We later learned that Captain Eli was deeply inspired to "get serious about his faith," after witnessing college students using well-earned school time off to serve neighbors in need.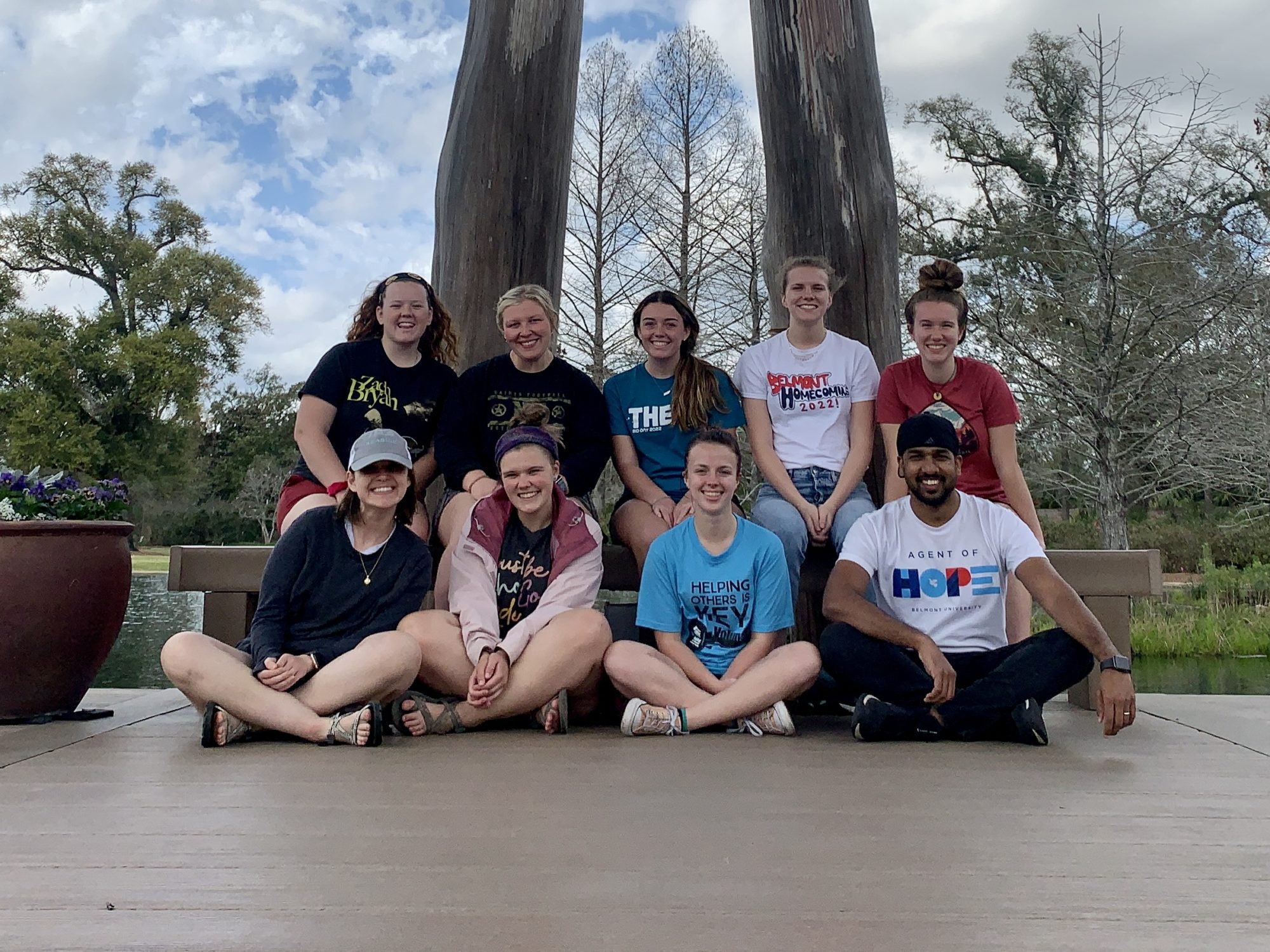 This is what living life "on mission" is about; daily participating in God's call for our lives to sacrificially love our neighbors. The projects we completed in DeQuincy were important but only second to the relationships we built. What a gift to see God's handiwork in and through our new friends in Louisiana.
This was an incredible experience; one I wish I had taken advantage of as a student. "On mission" looks different for all of us, but I invite you to join me in prayerfully considering what that means for each of us as members of the Belmont community. Through the love and grace of God, life abundant is ours to relish in.