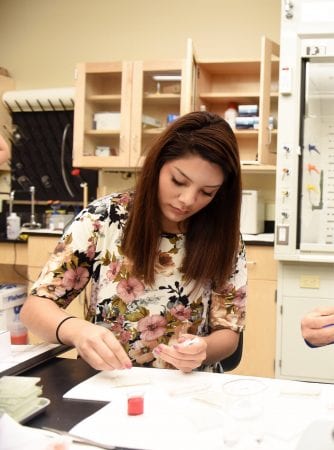 Third year honors neuroscience student Crystal Lemus was recently awarded a travel grant by the National Science Foundation/Department of Energy Office of Science and presented her physics research at the Conference for Undergraduate Women in Physics (CUWiP) at the University of Virginia in Charlottesville, VA.
The American Physical Society is a leading voice for physics education and supports efforts at all levels through its programs, publications and resources. CUWiP works to help undergraduate women continue in physics by providing them with professional networking opportunities.
Lemus's oral presentation was titled "Design and Implementation of Microfluidic Devices by the Foil-Embossed Method for the Isolation and Yeast Cells and Sortation of Microspheres." Her research was conducted this past summer in the McBride lab at Belmont University. She focused primarily on the construction of simple microfluidic devices that could manipulate geometrically constrained fluids to a sub millimeter scale and separate particles. Lemus was successful in isolating yeast cells which could later be translated to isolation of target cells in any biomedical situation.
Aside from presenting her research, Lemus was also selected among all conference attendees to give a talk based on her advocacy work for women in the STEM field. She discussed what women could do to stand out in the field and her creation of Women in Science, a new student organization on Belmont's campus.
"I never could have imagined that so many doors would open through one conference," Lemus said. "The people I have met, gotten to speak to and learn from are truly invaluable. Science is all about learning, creating and sharing knowledge and it feels great to contribute my part as a science researcher and advocate."